There are countless mysteries and thrillers publishing in 2022 so I compiled this list of the must-read ones to help readers wade through all of the choices and to help them find the best books in the genre for this year. I have already read some of them and include my comments on those that I have finished. As the year progresses, I will add any others that need to be included and update my thoughts about those that I read.
I will be interviewing a number of the authors on this list in the coming months so you can keep an eye out for those episodes - I put an asterisk by each author that I am scheduled to chat with about his or her book. 
Short summaries are included from the publishers' descriptions on each book to provide some detail on the selections. And as always, shop local or use my affiliate Bookshop.org links below which support independent bookstores and the production of my podcast. 
The Overnight Guest by Heather Gudenkauf (Jan. 25th)
True crime writer Wylie Lark doesn't mind being snowed in at the isolated farmhouse where she's retreated to write her new book. A cozy fire, complete silence. It would be perfect, if not for the fact that decades earlier, at this very house, two people were murdered in cold blood and a girl disappeared without a trace. As the storm worsens, Wylie finds herself trapped inside the house, haunted by the secrets contained within its walls—haunted by secrets of her own. Then she discovers a small child in the snow just outside. After bringing the child inside for warmth and safety, she begins to search for answers. But soon it becomes clear that the farmhouse isn't as isolated as she thought, and someone is willing to do anything to find them.
My thoughts: I loved everything about this one and read it in a day; it is a page turner with a highly satisfying resolution.
The Paris Apartment by Lucy Foley (Feb. 22nd)
Jess needs a fresh start. She's broke and alone, and she's just left her job under less than ideal circumstances. Her half-brother Ben didn't sound thrilled when she asked if she could crash with him for a bit, but he didn't say no, and surely everything will look better from Paris. Only when she shows up – to find a very nice apartment, could Ben really have afforded this? – he's not there. The longer Ben stays missing, the more Jess starts to dig into her brother's situation, and the more questions she has. Ben's neighbors are an eclectic bunch, and not particularly friendly. Jess may have come to Paris to escape her past, but it's starting to look like it's Ben's future that's in question.
My thoughts: This highly atmospheric novel is an engaging read from start to finish. I loved that the apartment building itself felt like a character and that the setting is Paris. Endings can ruin these types of thrillers, but I felt the resolution for this one made the book even better.
The Heights by Louise Candlish* (March 1st)
The Heights is a tall, slender apartment building among warehouses in London. Its roof terrace is so discreet, you wouldn't know it existed if you weren't standing at the window of the flat directly opposite. But you are. And that's when you see a man up there—a man you'd recognize anywhere. He may be older now, but it's definitely him. But that can't be because he's been dead for over two years. You know this for a fact. Because you're the one who killed him.
My thoughts: The format for this one is so clever and kept me guessing the entire time I was reading. I enjoyed the premise as well and the commentary on how much influence parents versus friends have on children.
Woman on Fire by Lisa Barr* (March 1st)
After talking her way into a job with Dan Mansfield, the leading investigative reporter in Chicago, rising young journalist Jules Roth is given an unusual--and very secret--assignment. Dan needs her to locate a painting stolen by the Nazis more than 75 years earlier: legendary Expressionist artist Ernst Engel's most famous work, Woman on Fire. Ellis Baum wants this portrait of a beautiful, mysterious woman for deeply personal reasons, and has enlisted Dan's help to find it. But Jules doesn't have much time; the famous designer is dying. Meanwhile, in Europe, provocative and powerful Margaux de Laurent also searches for the painting. Heir to her art collector family's millions, Margaux is a cunning gallerist who gets everything she wants. The only thing standing in her way is Jules. Yet the passionate and determined Jules has unexpected resources of her own, including Adam Baum, Ellis's grandson. A recovering addict and brilliant artist in his own right, Adam was once in Margaux's clutches. He knows how ruthless she is, and he'll do anything to help Jules locate the painting before Margaux gets to it first.
My thoughts: The art aspects of this story make the book. Using realistic twists and turns, combined with a stellar plot and an intriguing cast of characters, Barr has created a thriller that kept me on the edge of my seat.
The Book of Cold Cases by Simone St. James* (March 15th)
In 1977, Claire Lake, Oregon, was shaken by the Lady Killer Murders: Two men, seemingly randomly, were murdered with the same gun, with strange notes left behind. Beth Greer was the perfect suspect--a rich, eccentric twenty-three-year-old woman, seen fleeing one of the crimes. But she was acquitted, and she retreated to the isolation of her mansion.

Oregon, 2017. Shea Collins is a receptionist, but by night, she runs a true crime website, the Book of Cold Cases--a passion fueled by the attempted abduction she escaped as a child. When she meets Beth by chance, Shea asks her for an interview. To Shea's surprise, Beth says yes. They meet regularly at Beth's mansion, though Shea is never comfortable there. Items move when she's not looking, and she could swear she's seen a girl outside the window. The allure of learning the truth about the case from the smart, charming Beth is too much to resist, but even as they grow closer, Shea senses something isn't right.
My thoughts: Fans of true crime will savor this one.

The Cartographers by Peng Shepherd* (March 15th)
Nell Young's whole life and greatest passion is cartography. Her father, Dr. Daniel Young, is a legend in the field and Nell's personal hero. But she hasn't seen or spoken to him ever since he cruelly fired her and destroyed her reputation after an argument over an old, cheap gas station highway map. But when Dr. Young is found dead in his office at the New York Public Library, with the very same seemingly worthless map hidden in his desk, Nell can't resist investigating. To her surprise, she soon discovers that the map is incredibly valuable and exceedingly rare. In fact, she may now have the only copy left in existence... because a mysterious collector has been hunting down and destroying every last one—along with anyone who gets in the way. But why? To answer that question, Nell embarks on a dangerous journey to reveal a dark family secret and discovers the true power that lies in maps...
My thoughts: This distinctive tale is a page turner with an intelligent and engaging plot; I highly recommend it.
Nine Lives by Peter Swanson* (Mar. 15th)
Nine strangers receive a list with their names on it in the mail. Nothing else, just a list of names on a single sheet of paper. None of the nine people know or have ever met the others on the list. They dismiss it as junk mail, a fluke - until very, very bad things begin happening to people on the list. First, a well-liked old man is drowned on a beach in the small town of Kennewick, Maine. Then, a father is shot in the back while running through his quiet neighborhood in suburban Massachusetts. A frightening pattern is emerging, but what do these nine people have in common? Their professions range from oncology nurse to aspiring actor. FBI agent Jessica Winslow, who is on the list herself, is determined to find out. Could there be some dark secret that binds them all together? Or is this the work of a murderous madman? As the mysterious sender stalks these nine strangers, they find themselves constantly looking over their shoulders, wondering who will be crossed off next....
My thoughts: This Agatha Christie-inspired thriller is worth the read, especially if you are a fan of And Then There Were None.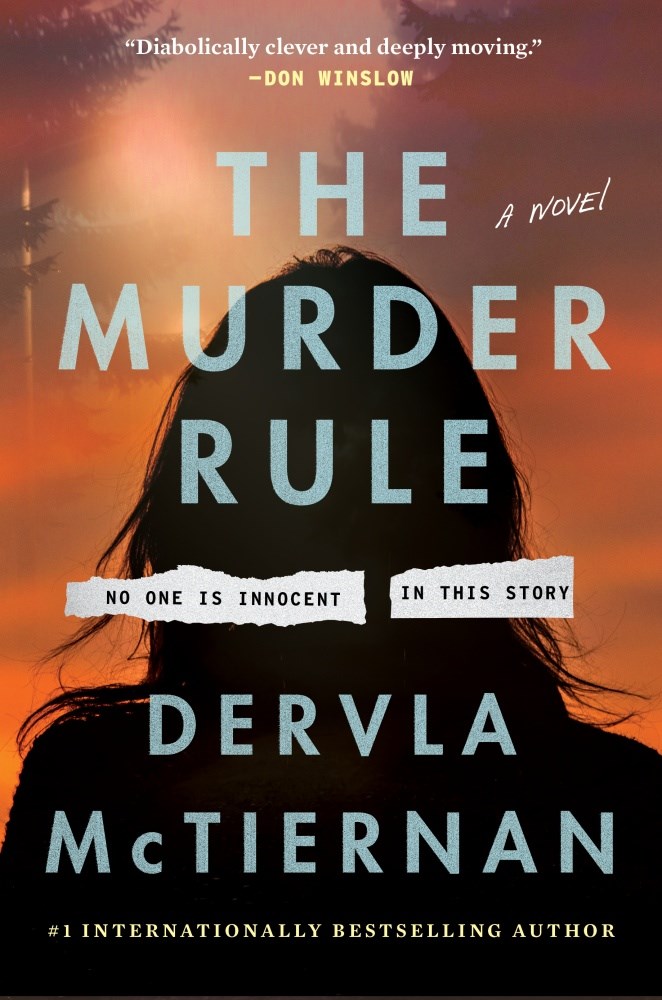 The Murder Rule by Dervla McTiernan (May 10th)
For fans of the compulsive psychological suspense of Ruth Ware and Tana French, a mother daughter story—one running from a horrible truth, and the other fighting to reveal it—that twists and turns in shocking ways, from the internationally bestselling author of The Scholar and The Ruin.
First Rule: Make them like you.
Second Rule: Make them need you.
Third Rule: Make them pay.
They think I'm a young, idealistic law student, that I'm passionate about reforming a corrupt and brutal system. They think I'm working hard to impress them. They think I'm here to save an innocent man on death row. They're wrong. I'm going to bury him.
Take Your Breath Away by Linwood Barclay (May 17th)
One weekend, while Andrew Mason was on a fishing trip, his wife, Brie, vanished without a trace. Most everyone assumed Andy had got away with murder--it's always the husband, isn't it?--but the police could never build a strong case against him. For a while, Andy hit rock bottom--he drank too much to numb the pain, was abandoned by all his friends save one, nearly lost his business, and became a pariah in the place he once called home. Now, six years later, Andy has finally put his life back together. He sold the house he once shared with Brie and moved away. Truth to tell, he wasn't sad to hear that the old place was razed and a new house built on the site. He's settled down with a new partner, Jayne, and life is good. But Andy's peaceful world is about to shatter. One day, a woman shows up at his old address, screaming, "Where's my house? What's happened to my house?" And then, just as suddenly as she appeared, the woman--who bears a striking resemblance to Brie--is gone. The police are notified and old questions--and dark suspicions--resurface.
My thoughts: The premise of this book grabbed me from the start. Barclay's twists and turns are so fun and creative, and every time I thought I had it figured out I was wrong. I highly recommend this fabulous read.
I loved this one so much, I selected it as the April advanced read and author chat for my Patreon group.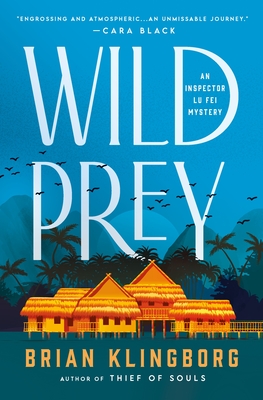 Wild Prey by Brian Klingborg (May 17th)
Police Inspector Lu Fei has an unfortunate talent for getting himself into hot water with powerful and well-connected people. Which is why he's been assigned to a backwater town in a rural area of Northern China and quietly warned to keep his head down. But while running a sting operation on the sale and consumption of rare and endangered animals, Lu comes across the curious case of a waitress who has gone missing. Her last known whereabouts: a restaurant frequented by local elites, owned by smooth-talking gangster, and known for its exotic -- and highly illegal -- delicacies. As usual, Lu's investigation ruffles some feathers, resulting in his suspension from the police force. Lu figures he's reached a dead-end. Then he's contacted by a mysterious government official in Beijing who wants him to go undercover to track down the mastermind behind an illegal animal trafficking network -- and hopefully, the answer to the fate of the missing waitress. The mission will require Lu to travel deep into the lawless wilds of Myanmar, where he will risk his life to infiltrate the hidden compound of a mysterious and ruthless female warlord in a bloody and nearly hopeless quest for justice.
The Local  by Joey Hartstone* (June 14th)
In the East Texas town of Marshall sits the Federal courthouse of the Eastern District of Texas, a place revered by patent lawyers for the court's adherence to speedy jury trails and massive punitive payouts. Marshall is flooded with patent lawyers, all of whom find work being the local voice for the big-city lawyers that need to sway a small-town jury. One of the best is James Euchre. Euchre's new client is Amir Zawar, a firebrand CEO forced to defend his life's work against a software patent infringement. In a heated moment during the preliminary hearing, Zawar threatens the judge in court. Later that night, Judge Gardner is found murdered in the courthouse parking lot. All signs point to Zawar—he publicly threatened the judge, he was staying at a house near the courthouse, he has no alibi. Moreover, he is an outsider, a wealthy Pakistani-American businessman, the son of immigrants, who stands accused of killing a powerful white Federal judge in a small Texas town. Zawar claims his innocence, and demands that Euchre defend him. It's the last thing Euchre wants—Judge Gardner was his good friend and mentor—but he reluctantly agrees. With the help of a former prosecutor and a local PI, Euchre must navigate the byzantine world of criminal defense law in a town where everyone knows everyone, and bad blood has a long history.
My thoughts: This legal thriller is fabulous. I love the premise and learned so much about patent law and how the suits impact this small town in Texas. A very compelling book.
The Lies I Tell  by Julie Clark* (June 21st)
Meg Williams. Maggie Littleton. Melody Wilde. Different names for the same person, depending on the town, depending on the job. She's a con artist who erases herself to become whoever you need her to be—a college student. A life coach. A real estate agent. Nothing about her is real. She slides alongside you and tells you exactly what you need to hear, and by the time she's done, you've likely lost everything. Kat Roberts has been waiting ten years for the woman who upended her life to return. And now that she has, Kat is determined to be the one to expose her. But as the two women grow closer, Kat's long-held assumptions begin to crumble, leaving Kat to wonder who Meg's true target is.
The Locked Room by Elly Griffiths (June 28th)
Ruth is in London clearing out her mother's belongings when she makes a surprising discovery: a photograph of her Norfolk cottage taken before Ruth lived there. Her mother always hated the cottage, so why does she have a picture of the place? As she died three years ago, Ruth can't exactly ask her, and her father denies all knowledge of the picture. The only clue is written on the back of the photo: Dawn, 1969. Ruth returns to Norfolk determined to solve the mystery, but then Covid-19 rears its ugly head. Ruth and her daughter are locked down in their cottage, attempting to continue with work and lessons, but, in reality, becoming lonely and frustrated. Happily the house next door is rented by a nice woman called Sally, who they become friendly with while standing on their doorstep clapping for carers. Nelson, meanwhile, has no time to be bored. He's investigating a series of suicides that could be the work of a serial killer. It's only when he links them to an archaeological discovery that he thinks of Ruth. He breaks curfew to visit the cottage to find Ruth chatting to her neighbour, whom he remembers as Dawn Lancaster, a carer who was once tried for murdering her employer. When the deaths continue, Nelson vows to take Ruth and Kate to live with him. But they, and Dawn, have vanished.
My thoughts: This is the 14th book in the series, but I do think it could be a good place to hop in if you have not read the earlier books. The crime is clever in this one, and there is a lot of character development. A solid addition to the series.
One of the Girls by Lucy Clarke* (June 28th)
It was supposed to be the perfect weekend away. Six very different women travel to a sun-soaked Greek island for a bachelorette trip, to celebrate Lexi's upcoming wedding. From the glorious ocean views to the quaint tavernas and whitewashed streets, the vacation seems too good to be true. But dangerous undercurrents run beneath the sunset swims and midnight cocktails – because each of the women is hiding a secret. Someone is determined to make sure that Lexi's marriage never happens – and that one of them doesn't leave the island alive.
My thoughts: I loved the setting and the premise for this one. The story along at just the right pace, and the resolution works well. I definitely recommend this one.
Look Closer by David Ellis (July 5th)
Simon and Vicky couldn't seemmore normal: a wealthy Chicago couple, he a respected law professor, she an advocate for domestic violence victims. A stable, if unexciting marriage. But one thing's for sure ... absolutely nothing is what it seems. The pair are far from normal, and one of them just may be a killer.
When the body of a beautiful socialite is found hanging in a mansion in a nearby suburb, Simon and Vicky's secrets begin to unravel. A secret whirlwind affair. A twenty-million-dollar trust fund about to come due. A decades-long grudge and obsession with revenge. These are just a few of the lies that make up the complex web...and they will have devastating consequences. And while both Vicky and Simon are liars, just who exactly is conning who?
The It Girl by Ruth Ware (July 12th)
Vivacious, bright, occasionally vicious, and the ultimate It girl, she quickly pulled Hannah into her dazzling orbit. Together, they developed a group of devoted and inseparable friends—Will, Hugh, Ryan, and Emily—during their first term. By the end of the second, April was dead. Now, a decade later, Hannah and Will are expecting their first child, and the man convicted of killing April, former Oxford porter John Neville, has died in prison. Relieved to have finally put the past behind her, Hannah's world is rocked when a young journalist comes knocking and presents new evidence that Neville may have been innocent. As Hannah reconnects with old friends and delves deeper into the mystery of April's death, she realizes that the friends she thought she knew all have something to hide…including a murder.
My thoughts: The Oxford setting makes this book, and I particularly enjoyed that aspect of the story.
Peril at the Exposition by Nev March (July 12th)
1893: Newlyweds Captain Jim Agnihotri and Diana Framji are settling into their new home in Boston, Massachusetts, having fled the strict social rules of British Bombay. It's a different life than what they left behind, but theirs is no ordinary marriage: Jim, now a detective at the Dupree Agency, is teaching Diana the art of deduction he's learned from his idol, Sherlock Holmes. Everyone is talking about the preparations for the World's Fair in Chicago: the grandeur, the speculation, the trickery. Captain Jim will experience it first-hand: he's being sent to Chicago to investigate the murder of a man named Thomas Grewe. As Jim probes the underbelly of Chicago's docks, warehouses, and taverns, he discovers deep social unrest and some deadly ambitions. When Jim goes missing, young Diana must venture to Chicago's treacherous streets to learn what happened. But who can she trust, when a single misstep could mean disaster?
The Kingdoms of Savannah by George Dawes Green* (July 19th)
It begins quietly on a balmy Southern night as some locals gather at Bo Peep's, one of the town's favorite watering holes. Within an hour, however, a man will be murdered and his companion will be "disappeared." An unlikely detective, Morgana Musgrove, doyenne of Savannah society, is called upon to unravel the mystery of these crimes. Morgana is an imperious, demanding, and conniving woman, whose four grown children are weary of her schemes. But one by one she inveigles them into helping with her investigation, and soon the family uncovers some terrifying truths—truths that will rock Savannah's power structure to its core.
Moving from the homeless encampments that ring the city to the stately homes of Savannah's elite, Green's novel brilliantly depicts the underbelly of a city with a dark history and the strangely mesmerizing dysfunction of a complex family.
My thoughts: This incredibly atmospheric book is very well crafted. I thoroughly enjoyed the way Green brings Savannah to life, and the underlying mystery is based on a true story which makes the book even more compelling.
The Swell by Allie Reynolds (July 19th)
Three years ago, passionate surfer Kenna Ward lost her two great loves—after her boyfriend drowned, she hung up her surfboard and swore off the water for good. But she is drawn back to the beach when her best friend, Mikki, announces her sudden engagement to a man Kenna has never met—a member of a tight-knit group of surfers. Kenna travels to a remote Australian beach, entering a dangerous world far from civilization world where the waves, weather, and tides are all that matter. Kenna is tempted back into the surf, and drawn into the dazzling group and the beach they call their own. But this coastal paradise has a dark side, and members of the group begin to go missing. Kenna realizes that in order to protect Mikki and learn more about the surfers, she must become one of them…without becoming one of their victims. What follows is an adrenaline-fueled thriller packed with twists and turns, exploring the dangerous edge between passion and obsession.
The Retreat by Sarah Pearse* (July 19th)
An eco-wellness retreat has opened on an island off the English coast, promising rest and relaxation—but the island itself, known locally as Reaper's Rock, has a dark past. Once the playground of a serial killer, it's rumored to be cursed. Detective Elin Warner is called to the retreat when a young woman's body is found on the rocks below the yoga pavilion in what seems to be a tragic fall. But the victim wasn't a guest—she wasn't meant to be on the island at all. When a guest drowns in a diving incident the following day, Elin starts to suspect that there's nothing accidental about these deaths. But why would someone target the guests, and who else is in danger?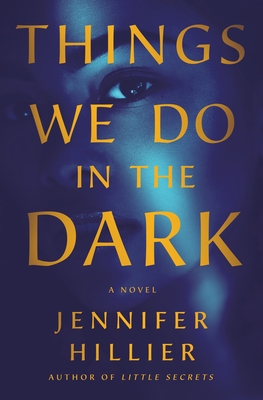 Things We Do in the Dark by Jennifer Hillier (July 19th)
When Paris Peralta is arrested in her own bathroom—covered in blood, holding a straight razor, her celebrity husband dead in the bathtub behind her—she knows she'll be charged with murder. But as bad as this looks, it's not what worries her the most. With the unwanted media attention now surrounding her, it's only a matter of time before someone from her long hidden past recognizes her and destroys the new life she's worked so hard to build, along with any chance of a future.
Twenty-five years earlier, Ruby Reyes, known as the Ice Queen, was convicted of a similar murder in a trial that riveted Canada in the early nineties. Reyes knows who Paris really is, and when she's unexpectedly released from prison, she threatens to expose all of Paris's secrets. Left with no other choice, Paris must finally confront the dark past she escaped, once and for all.
Because the only thing worse than a murder charge are two murder charges.
An Honest Living by Dwyer Murphy (July 26th)
A sharp and stylish debut from the editor-in-chief of CrimeReads in which an unwitting private eye gets caught up in a crime of obsession between a reclusive literary superstar and her bookseller husband, paying homage to the noir genre just as smartly as it reinvents it.
After leaving behind the comforts and the shackles of a prestigious law firm, a restless attorney makes ends meet in mid-2000s Brooklyn by picking up odd jobs from a colorful assortment of clients. When a mysterious woman named Anna Reddick turns up at his apartment with ten thousand dollars in cash and asks him to track down her missing husband Newton, an antiquarian bookseller who she believes has been pilfering rare true crime volumes from her collection, he trusts it will be a quick and easy case. But when the real Anna Reddick—a magnetic but unpredictable literary prodigy—lands on his doorstep with a few bones to pick, he finds himself out of his depth, drawn into a series of deceptions involving Joseph Conrad novels, unscrupulous booksellers, aspiring flâneurs, and seedy real estate developers.
My thoughts: This is much more noir-based than what I usually read. It is not really my type of book, but that does not mean others will not enjoy it more.
Dirt Creek by Hayley Scrivenor* (Aug. 2nd)
When twelve-year-old Esther disappears on the way home from school in a small town in rural Australia, the community is thrown into a maelstrom of suspicion and grief. As Detective Sergeant Sarah Michaels arrives in town during the hottest spring in decades and begins her investigation, Esther's tenacious best friend, Ronnie, is determined to find Esther and bring her home. When schoolfriend Lewis tells Ronnie that he saw Esther with a strange man at the creek the afternoon she went missing, Ronnie feels she is one step closer to finding her. But why is Lewis refusing to speak to the police? And who else is lying about how much they know about what has happened to Esther?Punctuated by a Greek chorus, which gives voice to the remaining children of the small, dying town, this novel explores the ties that bind, what we try and leave behind us, and what we can never outrun, while never losing sight of the question of what happened to Esther, and what her loss does to a whole town.
My thoughts: This book will be one of my top reads of the year. I absolutely loved the setting, the mystery, and the way the story is relayed in various POVS including the Greek chorus of the remaining children in the town.  I highly recommend this one.
Wrong Place Wrong Time by Gillian McAllister* (Aug. 2nd)
Can you stop a murder after it's already happened?

It's every parent's nightmare.

Your happy, funny, innocent son commits a terrible crime: murdering a complete stranger.

You don't know who. You don't know why. You only know your teenage boy is in custody and his future lost.

That night you fall asleep in despair. Until you wake . . .

. . . and it is yesterday.

Every morning you wake up a day earlier, another day before the murder. Another chance to stop it.

Somewhere in the past lie the answers, and you don't have a choice but to find them . .
My thoughts: Wrong Place Wrong Time is a fabulous read. The story goes backwards in time as Jen and the reader uncover the details that lead up to the crime Jen witnesses in the opening pages of the book. It will be one of my top thrillers of the year; it is very clever and thought provoking.
Are You Sara? by S.C. Lalli (Aug. 9th)
Two women named Sara each get into a rideshare. . . but only one makes it home alive. Which Sara was the real target? Law student Saraswati "Sara" Bhaduri holds down two jobs in order to make her way through school, but it's still a struggle. She's had to do things to pay the bills that most people wouldn't expect from "a nice Indian girl." It seems like an ordinary busy Tuesday night at the local dive bar until her boss demands Sara deal with a drunk girl in the bathroom. The two become fast friends. Why? Because they both have the same name. And despite their different circumstances, the two connect. When they both order rideshares home, they tumble in the back of the cars and head out into the night. But when Sara awakes in her rideshare, she finds she's on the wrong side of town—the rich side—and she realizes: she and Sarah took the wrong cars home. With no money, Sara walks back to her apartment on the shady side of town only to discover police lights flashing and a body crumpled on her doorstep: Sarah. Was Sarah Ellis or Sara Bhaduri the target? And why would anyone want either of them dead?
Do No Harm by Robert Pobi (Aug. 9th)
Lucas Page is a polymath, astrophysicist, professor, husband, father of five adopted children, bestselling author, and ex-FBI agent—emphasis on "ex." Severely wounded after being caught in an explosion, Page left the FBI behind and put his focus on the rebuilding the rest of his life. But Page is uniquely gifted in being able to recognize patterns that elude others, a skill that brings the F.B.I. knocking at his door again and again. Lucas Page's wife Erin loses a friend, a gifted plastic surgeon, to suicide and Lucas begins to realize how many people Erin knew that have died in the past year, in freak accidents and now suicide. Intrigued despite himself, Page begins digging through obituaries and realizes that there's a pattern—a bad one. These deaths don't make sense unless the doctors are being murdered, the target of a particularly clever killer. This time, the FBI wants as little to do with Lucas as he does with them so he's left with only one option—ignore it and go back to his normal life. But then, the pattern reveals that the next victim is likely to be...Erin herself.
My thoughts: This is the third in a phenomenal series, but I think it can also be read as a standalone. Lucas Page is on of the best protagonists in the genre, and the mysteries are very unique and well thought out. I highly recommend this one.
Firestorm by Taylor Moore (Aug. 16th)
Special Agent Garrett Kohl has just taken down a powerful and deadly cartel boss with the Texas Rangers when he finds trouble brewing back on his family's homestead. A powerful energy consortium, Talon Corporation, has started an aggressive mining operation that threatens to destroy Garrett's land and his family's way of life. To achieve its goals, Talon is flouting the law, bribing public officials, and meeting anyone who challenges it with extreme physical violence. When the Kohls themselves are attacked by Talon henchmen, Garrett goes on the offensive, embarking on an investigation that will hopefully rid the Texas High Plains of the intruders once and for all. Garrett soon discovers that the company's roots reach into the deep dark hinterlands of countries across the globe. Using coercion and assassination levied by mercenaries made up of former Russian special operations forces, Talon and the Russians are working to covertly secure the world's supply of rare earth minerals, leaving the U.S. vulnerable economically and militarily. The tit for tat exchange between Talon and the Kohls erupts into a full-scale war when Russian spy, Alexi Orlov, kidnaps Garrett's friend and ally, CIA operative Kim Manning and holds her hostage.
My thoughts: Firestorm is a great addition to Garrett Kohl series. If you like fast-paced thrillers, this is a great read.
Run Time by Catherine Ryan Howard (Aug. 16th)
Movie-making can be murder.
The project
Final Draft, a psychological horror. Promising Young Thing Steve Dade will direct.
The tagline
'Based on a terrifying true story. That hasn't happened - yet.'
The location
A cottage deep in a forest, miles from anywhere in the wintry wilds of West Cork.
The lead
Former soap-star Adele Rafferty has stepped in to replace the original actress at the very last minute. She can't help but hope that this will be her big break.
The problem
Something isn't quite right on the set of Final Draft.
Adele is about to discover that the real horror lies off the page...
My thoughts: I got bogged down midway through this one; it just did not work for me.
Girl, Forgotten by Karin Slaughter (Aug. 23rd)
Who killed Emily Vaughn?

Prom Night. Longbill Beach, 1982. Emily Vaughn dresses carefully for what's supposed to be the highlight of any high school career. But Emily has a secret. And by the end of the night, because of that secret, she will be dead.

Nearly forty years later, Andrea Oliver, newly qualified as a US Marshal, receives her first assignment: to go to Longbill Beach to protect a judge receiving death threats. But Andrea's real focus isn't the judge – it's Emily Vaughn. Ever since she first heard Emily's name a year ago, she's been haunted by her brutal death. Nobody was ever convicted – her friends closed ranks, her family shut themselves off in their grief, the town moved on – so the killer is still out there. But now Andrea has a chance to find out what really happened…
My thoughts: This is my first book of Karin Slaughter's to read, and I very much enjoyed it. I liked her writing style and felt invested in the storyline. It is the second in a series, but I didn't feel lost or like I didn't know what was going on. I definitely recommend this one.
Back to the Garden by Laurie R. King (Sept. 6th)
A magnificent house, vast formal gardens, a golden family that shaped California, and a colorful past filled with now-famous artists: the Gardener Estate was a twentieth-century Eden. And now, just as the Estate is preparing to move into a new future, restoration work on some of its art digs up a grim relic of the home's past: a human skull, hidden away for decades. Inspector Raquel Laing has her work cut out for her. Fifty years ago, the Estate's young heir, Rob Gardener, turned his palatial home into a counterculture commune of peace, love, and equality. But that was also a time when serial killers preyed on innocents—monsters like The Highwayman, whose case has just surged back into the public eye. Everything she finds keeps bringing her back to Rob Gardener himself. The pressure is on, and Raquel needs to solve this case—before The Highwayman slips away, or another Gardener vanishes.
Killers of a Certain Age by Deanna Raybourn* (Sept. 6th)
Billie, Mary Alice, Helen, and Natalie have worked for the Museum, an elite network of assassins, for forty years. Now their talents are considered old-school and no one appreciates what they have to offer in an age that relies more on technology than people skills. When the foursome is sent on an all-expenses paid vacation to mark their retirement, they are targeted by one of their own. Only the Board, the top-level members of the Museum, can order the termination of field agents, and the women realize they've been marked for death. Now to get out alive they have to turn against their own organization, relying on experience and each other to get the job done, knowing that working together is the secret to their survival. They're about to teach the Board what it really means to be a woman--and a killer--of a certain age.
My thoughts: I had been looking forward to this one since Deanna told me about it in our February interview for her latest Veronica Speedwell book. It most definitely did not disappoint. I loved the characters, the mystery, and the way the story plays out. And I particularly loved that the protagonists are in their 60s. Highly recommended - it is very well done.
Imposter by Bradeigh Godfrey (Sept. 13th)
Lilian and Rosie were once the closest of sisters, but the untimely death of their parents pulled them apart. Now, three years on, Rosie has reached out to her big sister, asking to meet. Driving on an icy road in the middle of a snowstorm, Rosie admits that she has something important to tell Lilian—a secret she describes as a matter of life and death. But before she has a chance to tell Lilian, a car careens into theirs, with devastating consequences. Lilian survives unscathed, but Rosie is left with a traumatic brain injury, unable to communicate. Lilian is convinced that someone deliberately rammed Rosie's car. As Lilian begins to explore her sister's past, she uncovers disturbing secrets that make her question if she ever really knew Rosie. The closer Lilian comes to the truth, the more danger she and Rosie find themselves in.
Marple: Twelve New Mysteries by Various Authors (Sept. 13th)
This collection of a dozen original short stories, all featuring Jane Marple, will introduce the character to a whole new generation. Each author reimagines Agatha Christie's Marple through their own unique perspective while staying true to the hallmarks of a traditional mystery. The authors are Naomi Alderman, Leigh Bardugo, Alyssa Cole, Lucy Foley, Elly Griffiths, Natalie Haynes, Jean Kwok, Val McDermid, Karen M. McManus, Dreda Say Mitchell, Kate Mosse, and Ruth Ware. Miss Marple was first introduced to readers in a story Agatha Christie wrote for The Royal Magazine in 1927 and made her first appearance in a full-length novel in 1930's The Murder at the Vicarage. It has been 45 years since Agatha Christie's last Marple novel, Sleeping Murder, was published posthumously in 1976, and this collection of ingenious new stories by twelve Christie devotees will be a timely reminder why Jane Marple remains the most famous fictional female detective of all time.
My thoughts: These types of story collections can be hit or miss for me, but I thoroughly enjoyed this one. It was so fun to see the way each author portrayed Miss Marple, where they set their story, which characters they included, and the actual mystery that they had Miss Marple solve. The authors clearly did their research on Miss Marple and the cases she solved, and it was so interesting to see the many different directions that they went with that knowledge. My favorites are the mysteries written by Ruth Ware, Jean Kwok, and Elly Griffiths.
Mother Daughter Traitor Spyby Susan Elia MacNeal (Sept. 20th)
June 1940. France has fallen to the Nazis, and Britain may be next--but to many Americans, the war is something happening "over there." Veronica Grace has just graduated from college; she and her mother, Violet, are looking for a fresh start in sunny Los Angeles. After a blunder cost her a prestigious career opportunity in New York, Veronica is relieved to take a typing job in L.A.--only to realize that she's working for one of the area's most vicious propagandists. Overnight, Veronica is exposed to the dark underbelly of her new home, where German Nazis are recruiting Americans for their devastating campaign. After the FBI dismisses the Graces' concerns, Veronica and Violet decide to call on an old friend, who introduces them to L.A.'s anti-Nazi spymaster. At once, the women go undercover to gather enough information about the California Reich to take to the authorities. But as the news of Pearl Harbor ripples through the United States, and President Roosevelt declares war, the Grace women realize that the plots they're investigating are far more sinister than they feared--and even a single misstep could cost them everything.
The Vicious Circle by Katherine St. John (Sept. 27th)
A perfect paradise? Or a perfect nightmare?
On a river deep in the Mexican jungle stands the colossal villa Xanadu, a wellness center that's home to The Mandala, an ardent spiritual group devoted to self-help guru Paul Bentzen and his enigmatic wife Kali. But when, mysteriously, Paul suddenly dies, his entire estate—including Xanadu—is left to his estranged niece Sveta, a former model living in New York City.
Shocked and confused, Sveta travels to Mexico to pay her respects. At first, Xanadu seems like a secluded paradise with its tumbling gardens, beautiful people, transcendent vibe, and mesmerizing de-facto leader Kali. But soon the mystical façade wears thin, revealing a group of brainwashed members drunk on false promises of an impossible utopia and a disturbing, dangerous belief system—and leader—guiding them.
As the sinister forces surrounding Sveta become apparent, she realizes, too late, she can't escape. Frantic and terrified, she discovers her only hope for survival is to put her confidence in the very person she trusts the least.
Anywhere You Run by Wanda M. Morris (Oct. 25th)
It's 1964 and Violet Richards is in more trouble than she's ever been in her life. It was an act of self-defense against her white rapist, Huxley Broadus. But with the color of Violet's skin, there is no way she can escape Jim Crow justice, not in Jackson, Mississippi. Before anyone can find Huxley or finger Violet as the killer, she decides to run. With the help of her white beau, Dewey Leonard, a lovesick boy intent on marrying her up North, they make it to Birmingham before she sneaks away and catches a Greyhound bus bound for Washington, D.C. But desperation has her winding up in a small rural town named Chillicothe, Georgia. Back in Jackson, Marigold, Violet's older sister with dreams of attending law school, is in a different kind of trouble: she's pregnant and unmarried. A member of the Mississippi Summer Project, Marigold has been trying to use her smarts to further the cause of the Black vote. But after the project lawyer - and her baby's father - abandons her and news of Huxley's murder brings the police to her door, Marigold sees no choice but to marry another man and leave Jackson behind. After a quick marriage, they move to Ohio seeking the promise of a better life and no more segregation.
My Patreon group is reading this one in September and meeting with Wanda Morris pre-publication.  Join my Patreon.
Racing the Light by Robert Crais (Nov. 1st)
Adele Schumacher isn't a typical worried mom. When she hires Elvis to find her missing son, a controversial podcaster named Josh Shoe, she brings a bag filled with cash, bizarre tales of government conspiracies, and a squad of professional bodyguards. Finding Josh should be simple, but Elvis quickly learns he isn't alone in the hunt -- a deadly team of mysterious strangers are determined to find Josh and his adult film star girlfriend first. With Elvis being watched and dangerous secrets lurking behind every lead, Elvis needs his friend Joe Pike more than ever to uncover the truth about Josh, corrupt politicians, and the vicious business cartels rotting the heart of Los Angeles from within. And when Elvis Cole's estranged girlfriend Lucy Chenier and her son Ben return, Elvis learns just how much he has to lose...if he survives.
My thoughts: This is a great addition to this long running series. It is hard to keep a series fresh but Crais has managed to do so.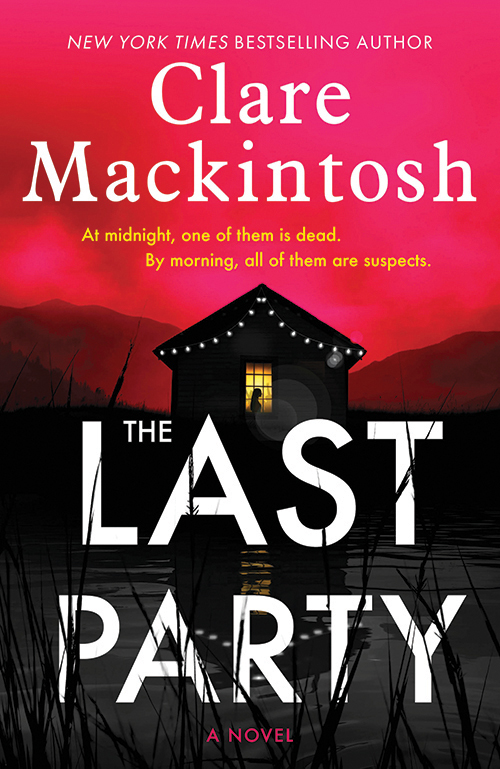 The Last Party by Clare Mackintosh (Nov. 8th)
On New Year's Eve, Rhys Lloyd has a house full of guests. His vacation homes on Mirror Lake are a success, and he's generously invited the village to drink champagne with their wealthy new neighbors. But by midnight, Rhys will be floating dead in the freezing waters of the lake. 
On New Year's Day, Ffion Morgan has a village full of suspects. The tiny community is her home, so the suspects are her neighbors, friends and family--and Ffion has her own secrets to protect. With a lie uncovered at every turn, soon the question isn't who wanted Rhys dead...but who finally killed him. In a village with this many secrets, murder is just the beginning.
Never Name the Dead by D.M. Rowell (Nov. 8th)
Old grudges, tribal traditions, and outside influences collide for a Kiowa woman as forces threaten her family, her tribe, and the land of her ancestors, in this own-voices debut perfect for fans of Winter Counts. No one called her Mud in Silicon Valley. There, she was Mae, a high-powered professional who had left her Kiowa roots behind a decade ago. But a cryptic voice message from her grandfather, James Sawpole, telling her to come home sounds so wrong that she catches the next plane to Oklahoma. She never expected to be plunged into a web of theft, betrayal, and murder. Mud discovers a tribe in disarray. Fracking is damaging their ancestral lands, Kiowa families are being forced to sell off their artifacts, and frackers have threatened to kill her grandfather over his water rights. When Mud and her cousin Denny discover her grandfather missing, accused of stealing the valuable Jefferson Peace medal from the tribe museum—and stumble across a body in his work room—Mud has no choice but to search for answers.
I would love to hear your most anticipated thrillers and mysteries of 2022 and the ones you have read and loved. Please comment below with all of your thoughts and recommendations!