So many great books published in 2022. In this post, I am highlighting my favorite fiction titles of the year. I have already posted about the best historical fiction of 2022 and will be covering the best books in the mystery/thriller genre soon as well as the best nonfiction books so keep an eye out for those lists.
I always promote shopping local or if you purchase the books online, I would be so grateful if you would use my affiliate Bookshop.org links below which support independent bookstores and the production of my podcast.
Here are the best fiction titles for 2022 (listed alphabetically):
This engrossing and inventive tale focuses on magician Violet Volk who vanished mid-act a decade previously. The book's creative use of podcast transcripts, emails, newspaper articles and more propels the story along, and wanting to know what really happened to Violet kept me madly turning the pages in this creative and compelling magical-realism novel. Montimore kept me guessing and the pacing of the book is perfect - the right amount of information is released at just the right time as the story progresses.
This book is a beautiful reflection on the concept of family. Three sets of parents are tied to each other through the biological siblings that they each adopt after the death of the children's grandmother. At times, I identified with each of the three adoptive mothers and also felt for each of them. The women all want to do what is best for the children as well as trying to help them maintain relationships with each other. I have not stopped thinking about it since I finished it.
When Kat Steiner and Blake O'Neill meet at sleepaway camp, their connection is immediate, but the girls' relationship ends abruptly when they realize they are half-sisters. Flash forward fifteen years, and Kat and Blake are dismayed to find that when their father died, he left them joint owners of the Destin, Florida family beach house. The writing duo of Ali Brady hit the ball out of the park with their debut – The Beach Trap is a sweet and uplifting story that had me cheering for Kat and Blake to resolve their differences and come to terms with their family's sordid past.
Carrie Soto is one of those characters that takes a little while to warm up to, but once I did I was rooting for her 100%. She is on a mission to remain the best tennis player in the world and won't let anything get in her way. However, over time she begins to realize what her single-minded focus has cost her and works to remedy her past mistakes. You won't want to miss this one.
When Nell Young's estranged father, a renowned cartographer, is found dead in the New York Public Library where he works, she discovers that he was clutching the very same basic gas station map that caused their falling out years before. Curious about the importance of the map, Nell discovers that the map is exceedingly rare, in fact it is the only one left of its kind. Baffled by this bizarre discovery, Nell sets out to uncover the secrets behind the map. This unique and creative tale is a page turner with an intelligent and engaging plot.
NYU student Lora Ricci's internship at ELLE Magazine introduces her to the cut throat world of fashion and the wealthy people who populate the industry. The book and its format (emails, FBI reports, diary entries and more) are fabulous, and I recommend going into it with little knowledge of the story to ensure nothing gets spoiled. It is a wild and crazy ride and just so well done.
The High House, a new addition to the expanding genre of climate fiction, is an unsettling, character-driven story. When a cataclysmic disaster wipes out portions of the country, Pauly and Caro head to the High House to escape and meet the two caretakers, Sally and Grandy, individuals their mother hired to look out for her children. The two pairs learn to live together in the wake of tragedy, dwindling supplies and an uncertain future. The High House is a quietly powerful novel that will stay with me for a long time.
Written in a unique format across 12 job counseling sessions, the book is a quick but very compelling read. Cara Romero, a woman in her 50s who recently lost her job at a factory manufacturing lamps, narrates her story as she visits with a job counselor each week in order to find a job or qualify for more benefits. I highly recommend this one - it is the perfect combination of humor, family drama, a strong setting, and characters you root for even as they sometimes make poor decisions.
Magazine columnist Iona Iverson rides the train to and from work every day, seeing the same people. None of the commuters ever speak to one another until the day when one of them chokes on food and is saved by another rider. This incident makes Iona realize that she wants to learn more about her fellow riders and she begins to develop relationships with them as she commutes. Infused with heart and humor, this book demonstrates the importance of community and the ability of relationships to change people's lives.
This coming-of-age story stars a 12-year-old girl named Fe Fe Stevens who lives in the Robert Taylor Homes on the south side of Chicago in 1999, right as the buildings are slowly being torn down by the Chicago Housing Authority. Her building is next in line to come down, and for a brief time she forms an alliance with two other girls in her building. The story is engaging, heartbreaking, and compelling, and Wolfe vividly depicts what is was like to live there: the daily gun battles, the dangers involved in taking the elevator or the stairs, the lack of lighting provided, and more.
Recently fired from her job and single after her last relationship blew up, Mika cannot seem to get her life together. When Penny, the daughter she gave up for adoption 16 years ago, contacts her and wants to forge a relationship with Mika, Mika invents a much better life for herself in order to impress her daughter. What starts out as a white lie blooms into an entirely new, and fake, existence for Mika. Mike in Real Life had me cheering for Mika as she struggled with the weight of her choices, the secrets she held, and what it means to be a mother.
In this absolutely delightful novel, Nora Hamilton writes formulaic scripts for a Hallmark-like channel. But when her husband leaves her and her two children, she mines her experiences and creates a fabulous script that gets picked up for the big screen. The movie is filmed at her home, and Leo Vance, America's heart throb, is cast as Nora's worthless husband. But when filming wraps, Leo asks if he can stay on as a renter for a week to enjoy the peace and against her better judgment she agrees. Monaghan creates a heartwarming, hilarious, and charming story that kept me completely engaged in the story as I rooted for Leo and Nora.
In a near future world, twelve-year-old Bird Gardner lives in an apartment on the Harvard University campus with his father, a former linguist who now shelves books at the university's library. For over ten years, the United States has been ruled by laws created to maintain an "American" way of life in light of years of violence and economic upheaval. Those who oppose these laws have their children removed from them and their livelihoods taken away. This heartbreaking and ultimately hopeful book shines a light on injustice and racism and demonstrates how art and quiet resistance can bring about change.
Following college, Esme put her life and dreams of moving to New York City and pursing an career at an art gallery on hold to care for her father when he had a terrible car crash. Seven years later she is offered a month-long job dog sitting in beautiful Greenwich Village apartment. Even better, the apartment's owner has an amazing collection of designer shoes which Esme asks to borrow. Each she tries a different pair as she works to make friends, regain her old life, and decide how much of her old dreams are still relevant to her now. The intergenerational relationships, the focus on friendship, and the shoes make this a standout tale.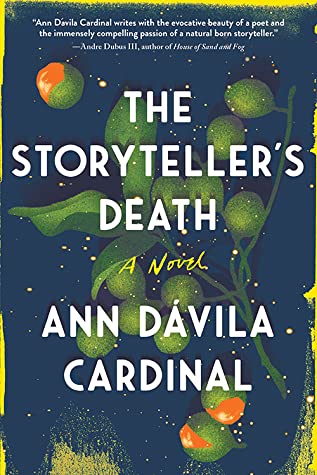 The Storyteller's Death is set in Puerto Rico and follows Isla Larsen Sanchez as she comes to terms with a strange family gift she inherits after her grandmother, a great storyteller, dies. This gift makes her family's stories come to life and play out in front of her over and over again until she resolves the issue at the heart of each story. But when an old murder mystery surfaces in her visions, she has to race to solve the murder before the visons take her life. This book is so compelling, unique, and lyrically written, and I loved the characters, the vivid setting, and the creative storyline. This book could be categorized as fiction or historical fiction.
Following a public breakdown brought on by the sudden death of her mother, indie musician Greta James agrees to accompany her father on a cruise to Alaska. They have always had a tense relationship, and while she was alive, Greta's mother, her biggest fan, had helped father and daughter communicate. Both hope the cruise to Alaska will help them learn to understand each other. In addition to repairing this relationship, Greta is working on her sophomore album, re-evaluating her current relationship, and trying to recover from her public meltdown. Ultimately, The Unsinkable Greta James is a story about repairing relationships, finding your joy and living life to the fullest.
I would love to hear your fiction titles of 2022. Please comment below with all of your thoughts and recommendations!
This post may contain affiliate links which earn me a commission at no additional cost to you.