Book guru extraordinaire Elizabeth Barnhill recently joined me on my podcast to talk about the books we feel make great book club selections. In this blog post, I list the books that we recommend with brief publisher summaries for each book. To learn more about why we recommend them, listen to our podcast episode.
As always, please shop local or use my affiliate Bookshop.org links below which support independent bookstores and the production of my podcast. If I have interviewed the author, you can click on his or her name to find the interview.
Elizabeth's Picks:
The Love of My Life by Rosie Walsh
Emma loves her husband Leo and their young daughter Ruby: she'd do anything for them. But almost everything she's told them about herself is a lie. And she might just have got away with it, if it weren't for her husband's job. Leo is an obituary writer; Emma a well-known marine biologist. When she suffers a serious illness, Leo copes by doing what he knows best – researching and writing about his wife's life. But as he starts to unravel the truth, he discovers the woman he loves doesn't really exist. Even her name isn't real.
The Anomaly by Hervé Le Tellier
In June 2021, a senseless event upends the lives of hundreds of men and women, all passengers on a flight from Paris to New York. Among them: Blake, a respectable family man, though he works as a contract killer; Slimboy, a Nigerian pop star tired of living a lie; Joanna, a formidable lawyer whose flaws have caught up with her; and Victor Miesel, a critically acclaimed yet commercially unsuccessful writer who suddenly becomes a cult hit. All of them believed they had double lives. None imagined just how true that was.
Take My Hand by Dolen Perkins-Valdez
Montgomery, Alabama 1973. Fresh out of nursing school, Civil Townsend has big plans to make a difference, especially in her African American community. At the Montgomery Family Planning Clinic, she intends to help women make their own choices for their lives and bodies. But when her first week on the job takes her down a dusty country road to a worn down one-room cabin, she's shocked to learn that her new patients are children—just 11 and 13 years old. One day, she arrives at the door to learn the unthinkable has happened and nothing will ever be the same for any of them. Decades later, with her daughter grown and a long career in her wake, Dr. Civil Townsend is ready to retire, to find her peace and to leave the past behind. But there are people and stories that refuse to be forgotten.
Any Other Family by Eleanor Brown
They look just like any other family. But they aren't a family like any other – not quite. Instead, they are three sets of parents who adopted four biological siblings, committing to keeping the children connected after the death of their grandmother. But when the three adoptive mothers receive a surprising call from their children's birth mother, announcing she is pregnant again and wants them to help her find an adoptive family for this child too, the delicate bonds they are still struggling to form threaten to collapse. As tensions rise, the women reckon with their own feelings about what it means to be a mother and what they owe each other as a family.
The Kitchen Counter Cooking School by Kathleen Flinn
After graduating from Le Cordon Bleu in Paris, writer Kathleen Flinn returned with no idea what to do next, until one day at a supermarket she watched a woman loading her cart with ultraprocessed foods. Flinn's "chefternal" instinct kicked in: she persuaded the stranger to reload with fresh foods, offering her simple recipes for healthy, easy meals. The Kitchen Counter Cooking School includes practical, healthy tips that boost readers' culinary self-confidence, and strategies to get the most from their grocery dollar, and simple recipes that get readers cooking.
When All Is Said by Anne Griffin
At the bar of a grand hotel in a small Irish town sits 84-year-old Maurice Hannigan. He's alone, as usual -- though tonight is anything but. Pull up a stool and charge your glass, because Maurice is finally ready to tell his story. Over the course of this evening, he will raise five toasts to the five people who have meant the most to him. Through these stories - of unspoken joy and regret, a secret tragedy kept hidden, a fierce love that never found its voice - the life of one man will be powerfully and poignantly laid bare.
Mudbound by Hillary Jordan
In Jordan's prize-winning debut, prejudice takes many forms, both subtle and brutal. It is 1946, and city-bred Laura McAllan is trying to raise her children on her husband's Mississippi Delta farm--a place she finds foreign and frightening. In the midst of the family's struggles, two young men return from the war to work the land. Jamie McAllan, Laura's brother-in-law, is everything her husband is not--charming, handsome, and haunted by his memories of combat. Ronsel Jackson, eldest son of the black sharecroppers who live on the McAllan farm, has come home with the shine of a war hero. But no matter his bravery in defense of his country, he is still considered less than a man in the Jim Crow South. It is the unlikely friendship of these brothers-in-arms that drives this powerful novel to its inexorable conclusion.
Interpreter of Maladies by Jhumpa Lahiri
A blackout forces a young Indian American couple to make confessions that unravel their tattered domestic peace. An Indian American girl recognizes her cultural identity during a Halloween celebration while the Pakastani civil war rages on television in the background. A latchkey kid with a single working mother finds affinity with a woman from Calcutta. In the title story, an interpreter guides an American family through the India of their ancestors and hears an astonishing confession. Imbued with the sensual details of Indian culture, these stories speak with passion and wisdom to everyone who has ever felt like a foreigner.
Someone We Know by Shari Lapena
Maybe you don't know your neighbors as well as you thought you did . . . This is a very difficult letter to write. I hope you will not hate us too much. . . My son broke into your home recently while you were out. In a quiet, leafy suburb in upstate New York, a teenager has been sneaking into houses--and into the owners' computers as well--learning their secrets, and maybe sharing some of them, too. Who is he, and what might he have uncovered? After two anonymous letters are received, whispers start to circulate, and suspicion mounts. And when a woman down the street is found murdered, the tension reaches the breaking point. In this neighborhood, it's not just the husbands and wives who play games. Here, everyone in the family has something to hide . . .You never really know what people are capable of.
Digital Minimalism by Cal Newport
Digital minimalists are all around us. Now, Newport gives us a name for this quiet movement, and makes a persuasive case for its urgency in our tech-saturated world. Common sense tips, like turning off notifications, don't go far enough in helping us take back control of our technological lives, and attempts to unplug completely are complicated by the demands of family, friends and work. What we need instead is a thoughtful method to decide what tools to use, for what purposes, and under what conditions. Drawing on a diverse array of real-life examples, Newport identifies the common practices of digital minimalists and the ideas that underpin them. He then shares strategies for integrating these practices into your life, starting with a thirty-day digital declutter process that has already helped thousands feel less overwhelmed and more in control.
These Is My Words by Nancy E. Turner
A moving, exciting, and heartfelt American saga inspired by the author's own family memoirs, these words belong to Sarah Prine, a woman of spirit and fire who forges a full and remarkable existence in a harsh, unfamiliar frontier. Scrupulously recording her steps down the path Providence has set her upon--from child to determined young adult to loving mother--she shares the turbulent events, both joyous and tragic, that molded her, and recalls the enduring love with cavalry officer Captain Jack Elliot that gave her strength and purpose.
The Measure by Nikki Erlick
Eight ordinary people. One extraordinary choice. It seems like any other day. You wake up, pour a cup of coffee, and head out. But today, when you open your front door, waiting for you is a small wooden box. This box holds your fate inside: the answer to the exact number of years you will live. From suburban doorsteps to desert tents, every person on every continent receives the same box. In an instant, the world is thrust into a collective frenzy. As society comes together and pulls apart, everyone faces the same shocking choice: Do they wish to know how long they'll live? And, if so, what will they do with that knowledge? The Measure charts the dawn of this new world through an unforgettable cast of characters whose decisions and fates interweave with one another.
Cindy's Picks:
I Must Betray You by Ruta Sepetys
Romania, 1989. Communist regimes are crumbling across Europe. Seventeen-year-old Cristian Florescu dreams of becoming a writer, but Romanians aren't free to dream; they are bound by rules and force. Amidst the tyrannical dictatorship of Nicolae Ceaușescu in a country governed by isolation and fear, Cristian is blackmailed by the secret police to become an informer. He's left with only two choices: betray everyone and everything he loves—or use his position to creatively undermine the most notoriously evil dictator in Eastern Europe. Cristian risks everything to unmask the truth behind the regime, give voice to fellow Romanians, and expose to the world what is happening in his country. He eagerly joins the revolution to fight for change when the time arrives. But what is the cost of freedom?
The High House by Jessie Greengrass
Perched on a sloping hill, set away from a small town by the sea, the High House has a tide pool and a mill, a vegetable garden, and, most importantly, a barn full of supplies. Caro, Pauly, Sally, and Grandy are safe, so far, from the rising water that threatens to destroy the town and that has, perhaps, already destroyed everything else. But for how long? Caro and her younger half-brother, Pauly, arrive at the High House after her father and stepmother fall victim to a faraway climate disaster--but not before they call and urge Caro to leave London. In their new home, a converted summer house cared for by Grandy and his granddaughter, Sally, the two pairs learn to live together. Yet there are limits to their safety, limits to the supplies, limits to what Grandy--the former village caretaker, a man who knows how to do everything--can teach them as his health fails.
Once Upon a Wardrobe by Patti Callahan
1950: Margaret Devonshire (Megs) is a student of mathematics and physics at Oxford University. When her beloved young brother asks Megs if Narnia is real, logical Megs tells him it's just a book for children, and certainly not true. Homebound due to his illness, George presses her to ask the author of the recently released novel The Lion, the Witch and the Wardrobe a question: "Where did Narnia come from?" Megs soon finds herself taking tea with C.S. Lewis and his own brother Warnie, begging them for answers. Rather than directly telling her where Narnia came from, Lewis encourages Megs to form her own conclusion as he slowly tells her the little-known stories from his own life that led to his inspiration. As she takes these stories home to George, the little boy travels farther in his imagination than he ever could in real life. Lewis's answers will reveal to Megs and her family many truths that science and math cannot.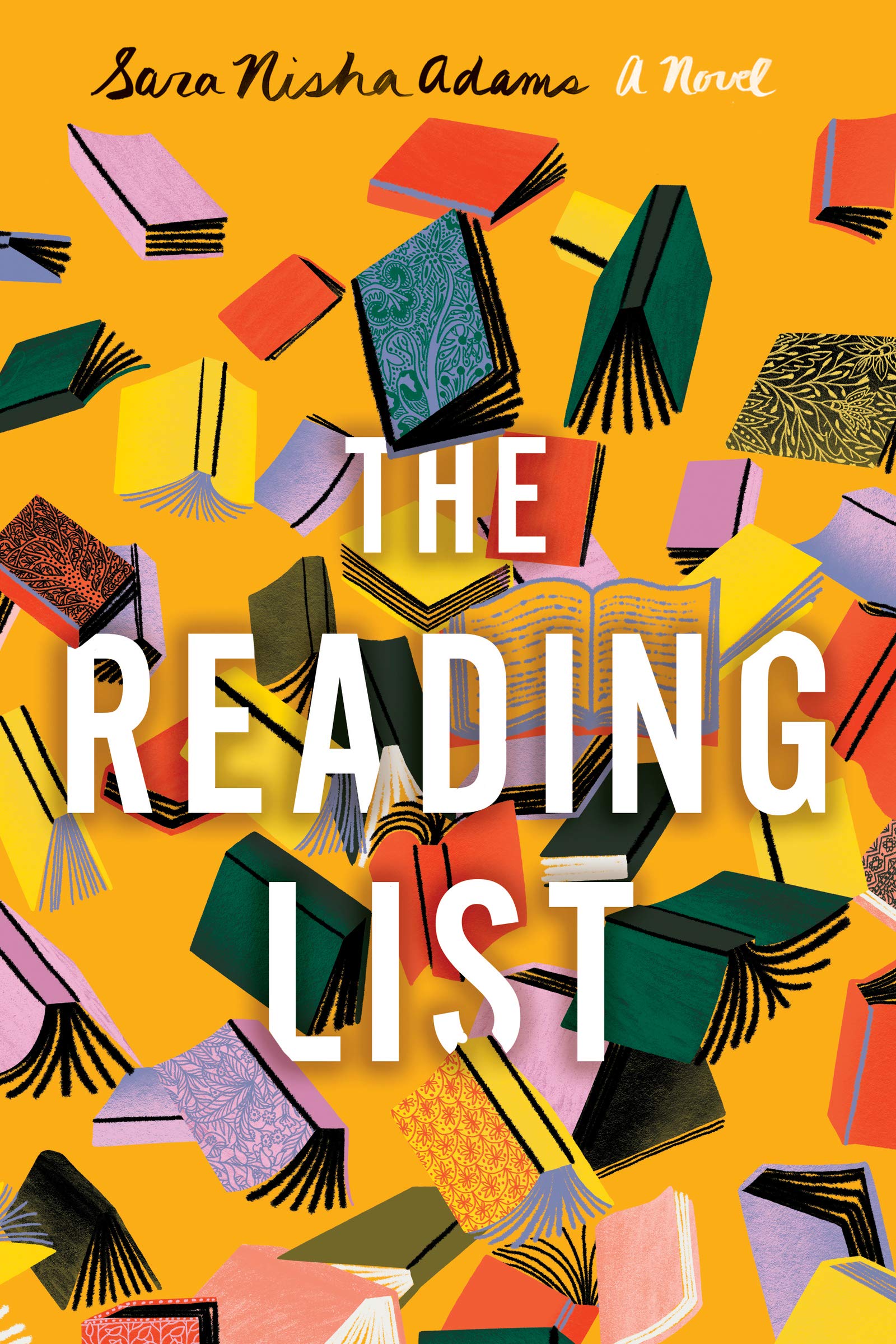 The Reading List by Sara Nisha Adams
Widower Mukesh lives a quiet life in Wembley, in West London after losing his beloved wife. He shops every Wednesday, goes to Temple, and worries about his granddaughter, Priya, who hides in her room reading while he spends his evenings watching nature documentaries. Aleisha is a bright but anxious teenager working at the local library for the summer when she discovers a crumpled-up piece of paper in the back of To Kill a Mockingbird. It's a list of novels that she's never heard of before. Intrigued, and a little bored with her slow job at the checkout desk, she impulsively decides to read every book on the list, one after the other. When Mukesh arrives at the library, desperate to forge a connection with his bookworm granddaughter, Aleisha passes along the reading list...hoping that it will be a lifeline for him too. Slowly, the shared books create a connection between two lonely souls.
After talking her way into a job with Dan Mansfield, the leading investigative reporter in Chicago, rising young journalist Jules Roth is given an unusual assignment. Dan needs her to locate a painting stolen by the Nazis more than 75 years earlier: legendary Expressionist artist Ernst Engel's most famous work, Woman on Fire. World-renowned shoe designer Ellis Baum wants this portrait of a beautiful, mysterious woman for deeply personal reasons, and has enlisted Dan's help to find it. But Jules doesn't have much time; the famous designer is dying. Meanwhile, in Europe, provocative and powerful Margaux de Laurent also searches for the painting. The only thing standing in her way is Jules. Yet the passionate and determined Jules has unexpected resources of her own, including Adam Baum, Ellis's grandson. He knows how ruthless she is, and he'll do anything to help Jules locate the painting before Margaux gets to it first.
Bridget and Will have the kind of relationship that people envy: they're loving, compatible, and completely devoted to each other. The fact that they're strictly friends seems to get lost on nearly everyone. For three decades, they've nurtured their baby, the Forsyth Trio--a chamber group they created as students with their Juilliard classmate Gavin Glantz. Bridget has been dreaming of spending the summer at her well-worn Connecticut country home with her boyfriend Sterling. But her plans are upended when Sterling breaks up with her over email, her twin twenty-somethings arrive unexpectedly, and her elderly father announces he's getting married. She concocts a plan to host her dad's wedding on her ramshackle property, while putting the Forsyth Trio back into the spotlight.
Winter Counts by David Heska Wanbli Weiden
Virgil Wounded Horse is the local enforcer on the Rosebud Indian Reservation in South Dakota. When justice is denied by the American legal system or the tribal council, Virgil is hired to deliver his own punishment, the kind that's hard to forget. But when heroin makes its way into the reservation and finds Virgil's nephew, his vigilantism suddenly becomes personal. He enlists the help of his ex-girlfriend and sets out to learn where the drugs are coming from, and how to make them stop. They follow a lead to Denver and find that drug cartels are rapidly expanding and forming new and terrifying alliances. And back on the reservation, a new tribal council initiative raises uncomfortable questions about money and power. As Virgil starts to link the pieces together, he must face his own demons and reclaim his Native identity. He realizes that being a Native American in the twenty-first century comes at an incredible cost.
Land of Big Numbers by Te-Ping Chen
Gripping and compassionate, Land of Big Numbers traces the journeys of the diverse and legion Chinese people, their history, their government, and how all of that has tumbled--messily, violently, but still beautifully--into the present. Cutting between clear-eyed realism and tongue-in-cheek magical realism, Chen's stories coalesce into a portrait of a people striving for openings where mobility is limited. Twins take radically different paths: one becomes a professional gamer, the other a political activist. And a group of people sit, trapped for no reason, on a subway platform for months, waiting for official permission to leave. With acute social insight, Te-Ping Chen layers years of experience reporting on the ground in China with incantatory prose in this taut, surprising debut, proving herself both a remarkable cultural critic and an astonishingly accomplished new literary voice.
Once There Were Wolves by Charlotte McConaghy
Inti Flynn arrives in Scotland with her twin sister, Aggie, to lead a team of biologists tasked with reintroducing fourteen gray wolves into the remote Highlands. She hopes to heal not only the dying landscape, but Aggie, too, unmade by the terrible secrets that drove the sisters out of Alaska. Inti is not the woman she once was, either, changed by the harm she's witnessed--inflicted by humans on both the wild and each other. Yet as the wolves surprise everyone by thriving, Inti begins to let her guard down, even opening herself up to the possibility of love. But when a farmer is found dead, Inti knows where the town will lay blame. Unable to accept her wolves could be responsible, Inti makes a reckless decision to protect them. But if the wolves didn't make the kill, then who did?
Dragonfly by Leila Meacham
At the height of World War II, a handful of idealistic young Americans receive a mysterious letter from the government, asking them if they are willing to fight for their country. The men and women from very different backgrounds -- a Texan athlete with German roots, an upper-crust son of a French mother and a wealthy businessman, a dirt-poor Midwestern fly fisherman, an orphaned fashion designer, and a ravishingly beautiful female fencer -- all answer the call of duty, but each for a secret reason of her or his own. They bond immediately, in a group code-named Dragonfly. Thus begins a dramatic cat-and-mouse game, as the group seeks to stay under the radar until a fatal misstep leads to the capture and the firing-squad execution of one of their team. But is everything as it seems, or is this one more elaborate act of spycraft?
Meet Me at the Museum by Anne Youngson
In Denmark, Professor Anders Larsen, an urbane man of facts, has lost his wife and his hopes for the future. On an isolated English farm, Tina Hopgood is trapped in a life she doesn't remember choosing. Both believe their love stories are over. Brought together by a shared fascination with the Tollund Man, subject of Seamus Heaney's famous poem, they begin writing letters to one another. And from their vastly different worlds, they find they have more in common than they could have imagined. As they open up to one another about their lives, an unexpected friendship blooms. But then Tina's letters stop coming, and Anders is thrown into despair. How far are they willing to go to write a new story for themselves?
We Are the Brennans by Tracey Lange
When Sunday Brennan wakes up in a Los Angeles hospital, bruised and battered after a drunk driving accident she caused, she swallows her pride and goes home to her family in New York. But it's not easy. She deserted them all--and her high school sweetheart--five years before with little explanation, and they've got questions. Sunday is determined to rebuild her life back on the east coast, even if it does mean tiptoeing around resentful brothers and an ex-fiancé. The longer she stays, however, the more she realizes they need her just as much as she needs them. When a dangerous man from her past brings her family's pub business to the brink of financial ruin, the only way to protect them is to upend all their secrets. In the aftermath, the Brennan family is forced to confront painful mistakes--and ultimately find a way forward, together.
I would love to hear what books your book club has read and loved. Please comment below with all of your thoughts and recommendations!