Books make the perfect gifts for almost anyone, but sometimes trying to find the right one can be a little tricky. This compilation will help you find the "it" book for everyone on your list.
Snippets are included from the publishers' descriptions on each book to provide some detail on each selection. And as always, shop local or use the Bookshop.org links below which support independent bookstores.
Cookbooks and Books about Entertaining
The Art of the Host: Recipes and Rules for Flawless Entertaining by Alex Hitz - Alex Hitz, the very best host in the world according to the Wall Street Journal, shares more than 100 timeless, tried-and-true recipes for classic comfort foods to serve with his inimitable style of gracious entertaining.
The United States of the Cocktail: Recipes, Tales, and Traditions from All 50 States by Brian Bartels - After traveling around this great nation and sampling many of the drinks on offer, cocktail authority Brian Bartels serves up a book that is equal parts recipe collection, travelogue, historical miscellany, bartender's manual, and guide to bar culture today.
Pie for Everyone: Recipes and Stories from Petee's Pie, New York's Best Pie Shop by Petra "Petee" Paradez - Petra (Petee) Paredez shares her personal repertoire of impeccable baking techniques that have made her pie shops, Petee's Pie Company and Petee's Café, New York darlings. Filled with vibrant photography and recipes for just about every pie imaginable, from fruit and custard to cream and even savory, Pie for Everyone invites us to share in the magic and endless appeal of pie.
Big Macs and Burgundy: Wine Pairings for the Real World by Vanessa Price with Adam Laukhuf - Building upon the outsize success of her weekly column in Grub Street, Vanessa Price offers delightfully bold wine and food pairings alongside hilarious tales from her own unlikely journey as a Kentucky girl making it in the Big Apple and in the wine business.
Xi'An Famous Foods: The Cuisine of Western China, from New York's Favorite Noodle Shop by Jason Wang with Jessica K. Chou - Since its humble opening in 2005, Xi'an Famous Foods has expanded from one stall in Flushing to 14 locations in New York City. CEO Jason Wang divulges how this empire came to be, alongside the never-before-published recipes that helped create this New York City icon.
Nonfiction
Make Life Beautiful by Syd and Shea McGee – Make Life Beautiful is the new autobiography from Syd and Shea McGee, the stars of the Netflix hit series "Dream Home Makeover". This book is a behind-the-scenes look into how the couple transformed Shea's small room of fabric samples and big dream of becoming a designer into one of the most successful and fastest-growing interior design businesses in the country.
Shit, Actually: The Definitive, 100% Objective Guide to Modern Cinema by Lindy West - At once outrageously funny and piercingly incisive, Shit, Actually reminds us to pause and ask, "How does this movie hold up?", all while teaching us how to laugh at the things we love without ever letting them or ourselves off the hook. Shit, Actually is a love letter and a break-up note all in one: to the films that shaped us and the ones that ruined us. More often than not, West finds, they're one and the same.
The Address Book: What Street Addresses Reveal about Identity, Race, Wealth and Power by Deirdre Mask - The Address Book is an exuberant and insightful work of popular history of how streets got their names, houses their numbers, and what it reveals about class, race, power, and identity. Filled with fascinating people and histories, The Address Book illuminates the complex and sometimes hidden stories behind street names and their power to name, to hide, to decide who counts, who doesn't―and why.
Everything Beautiful in Its Time: Seasons of Love and Loss by Jenna Bush - Jenna Bush Hager, the former first daughter and granddaughter, bestselling author, and coanchor of the Today show, shares moving, funny stories about her beloved grandparents and the wisdom they passed on that has shaped her life.
The Dead Are Arising: The Life of Malcolm X by Les Payne and Tamara Payne - This historic biography conjures a never-before-seen world of its protagonist. Setting Malcolm X's life not only within the Nation of Islam but against the larger backdrop of American history, the book traces the life of one of the twentieth century's most politically relevant figures "from street criminal to devoted moralist and revolutionary."
Nobody Will Tell You This But Me by Bess Kalb - Even after she left home for Hollywood, Bess Kalb saved every voicemail her grandmother Bobby Bell ever left her, and when she died Bess was inconsolable. But in this debut memoir, Bobby is speaking to Bess once more, in a voice as passionate as it ever was in life. Nobody Will Tell You This But Me marks the creation of a totally new, virtuosic form of memoir: a reconstruction of a beloved grandmother's words and wisdom to tell her family's story with equal parts poignancy and hilarity.
Wandering in Strange Lands: A Daughter of the Great Migration Reclaims Her Roots by Morgan Jerkins - Between 1916 and 1970, six million black Americans left their rural homes in the South for jobs in cities in the North, West, and Midwest in a movement known as The Great Migration. In this fascinating and deeply personal exploration, Jerkins recreates her ancestors' journeys across America and seeks to understand not only her own past, but the lineage of an entire group of people who have been displaced, disenfranchised, and disrespected throughout our history.
My Wife Said You May Want to Marry Me by Jason Rosenthal - My Wife Said You May Want to Marry Me is an inspiring memoir of life, love, loss, and new beginnings by the widower of bestselling children's author and filmmaker Amy Krouse Rosenthal, whose last of act of love before her death was setting the stage for her husband's life without her in the viral New York Times Modern Love column, "You May Want to Marry My Husband."
Singular Sensation: The Triumph of Broadway by Michael Riebel - The extraordinary story of a transformative decade on Broadway, featuring gripping behind-the-scenes accounts of shows such as Rent, Angels in America, Chicago, The Lion King, and The Producers—shows that changed the history of the American theater.
Fiction
Contemporary Fiction:
Musical Chairs by Amy Poeppel - With her trademark humor, pitch-perfect voice, and sly perspective on the human heart, Amy Poeppel crafts a love letter to modern family life with all of its discord and harmony. Musical Chairs is an irresistibly romantic story of role reversals, reinvention, and sweet synchronicity.
The Big Finish by Brooke Fossey - In a funny, insightful, and life-affirming debut, Brooke Fossey delivers an unflinching look at growing old, living large, and loving big, as told by a wise-cracking man who didn't see any of it coming.
A Good Family by A.H. Kim – A Good Family is the story of an all-American family as it implodes under the weight of secrets, lies and the unchecked desire for wealth and power.
Daughters of Smoke and Fire by Ava Homa - Daughters of Smoke and Fire is an evocative portrait of the lives and stakes faced by 40 million stateless Kurds and a powerful story that brilliantly illuminates the meaning of identity and the complex bonds of family. It is the first novel published in English by a female Kurdish writer.
Historical Fiction:
The Mountains Sing by Nguyen Phan Que Mai - Vivid, gripping, and steeped in the language and traditions of Viet Nam, The Mountains Sing brings to life the human costs of this conflict from the point of view of the Vietnamese people themselves, while showing us the true power of kindness and hope. This is celebrated Vietnamese poet Nguyen Phan Que Mai's first novel in English.
When We Were Young & Brave by Hazel Gaynor – Gaynor sets her new novel in China during WWII, inspired by true events surrounding the Japanese Army's internment of teachers and children from a British-run missionary school. When We Were Young & Brave is an unforgettable novel about impossible choices and unimaginable hardship, and the life-changing bonds formed between a young girl and her teacher in a remote corner of a terrible war.
Miss Graham's Cold War Cookbook by Celia Rees - With a unique, compelling premise set in post-World War 2 Germany, Miss Graham's Cold War Coobook is a beautifully crafted and gripping novel about daring, betrayal, and female friendship. An ordinary young British woman is sent to uncover a network of spies and war criminals in post-war Germany who discovers that no one is what they seem to be.
Old Abe: A Novel by John Cribb - Old Abe recounts the last five years of Abraham Lincoln's life, the most cataclysmic years of America's history and portrays Lincoln not only as a flesh-and-blood man, but a hero who embodies his country's finest ideals. Set amid America's most devastating tragedy, Old Abe captures the triumphs and defeats of one of the greatest leaders in US history, the one who set a divided country on track to become a great nation.
Mystery/thriller:
The Sun Down Motel by Simone St James - The Sun Down Motel is a creepy, rundown motel serving as a pit stop for travelers on their way through Fell, New York that also provides a place for locals to hide out. The secrets lurking at this rundown motel ensnare a young woman, just as they did her aunt thirty-five years before, in this new atmospheric suspense novel.
The Drifter by Nick Petrie - Peter Ash came home from the wars in Iraq and Afghanistan with only one souvenir: what he calls his "white static," the buzzing claustrophobia that has driven him to spend a year roaming in nature. But when a friend from the Marines commits suicide, Ash returns to civilization to help the man's widow with some home repairs. Under her dilapidated porch, he finds more than he bargained for, a Samsonite suitcase stuffed with cash and explosives. As Ash begins to investigate this unexpected discovery, he finds himself at the center of a plot that is far larger than he could have imagined. This is book 1 of 5 in the Peter Ash series.
The Last Flight by Julie Clark - Two women eager to flee their own lives agree to swap tickets for their flights at the last minute: Claire gives Eva her ticket to Puerto Rico and takes Eva's ticket to Oakland. When the flight to Puerto Rico crashes into the ocean, Claire realizes she must assume Eva's identity to survive, but quickly learns that Eva was not who she claimed to be. The Last Flight is the story of two women―both alone, both scared―and one agonizing decision that will change the trajectory of both of their lives.
A Solitude of Wolverines by Alice Henderson - A Solitude of Wolverines is the first book in a thrilling series featuring a wildlife biologist who courts trouble as she saves endangered species . . . and a mysterious killer who buries his dead in the land she helps preserve. Henderson's tale combines an intriguing mystery with facts about the elusive wolverine population and the threats to its habitat.
Books for that hard-to-shop-for individual:
Arctic by Vincent Munier (the publisher plants a tree for every book purchased) - Vincent Munier's unique pictures take the reader on a long and adventurous journey across the open spaces of the far North; their gentle, white atmosphere softens the real harshness of this gigantic desert, at the top of the world. And for the first time, the photographer shares his travel journal and personal impressions of the Arctic, one the most remote and fragile places on the planet.
I is for Illuminati: An A to Z Guide for Our Paranoid Times by Chris Vola - With history (and rhymes) about twenty-six of the most baffling global conspiracies, illustrated with original full-color drawings created by Keni Thomas and specially designed for the book, this is the ultimate gift for X-files fans, Alexa-muters, and all who want to believe (or already do).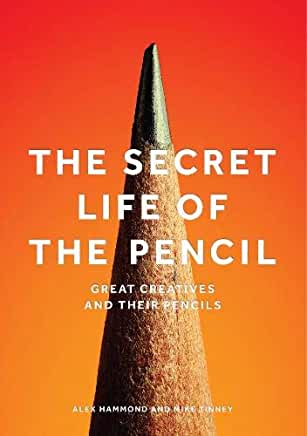 The Secret Life of the Pencil: Great Creatives and Their Pencils by Alex Hammond and Mike Tinney - This book presents a unique collection of close-up pictures of pencils from some of our foremost artists, designers, writers, architects, and musicians. What makes these pictures compelling is the fact that they somehow reflect the creative personalities of their owners, and the pictures are complemented by materials such as sketches, quotes and brief interviews, giving a further insight into the workings of these great creative minds.
Renegade Women in Film & TV by Elizabeth Weitzman - Renegade Women in Film & TV blends stunning illustrations, fascinating biographical profiles, and exclusive interviews with icons like Barbra Streisand, Rita Moreno, and Sigourney Weaver to celebrate the accomplishments of 50 extraordinary women throughout the history of entertainment.
Leave Only Footprints: My Acadia-to-Zion Journey Through Every National Park by Conor Knighton - Leave Only Footprints is the memoir of Knighton's year spent traveling across the United States, a journey that yielded his "On the Trail" series, which quickly became one of CBS Sunday Morning's most beloved segments. In this smart, informative, and often hilarious book, he'll share how his journey through these natural wonders, unchanged by man, ended up changing his worldview on everything from God to politics to love and technology.
How to Astronaut: Everything You Need to Know Before Leaving Earth by Terry Virts - Former NASA astronaut Terry Virts offers an insider's guide to astronauting—a behind-the-scenes look at the training, the basic rules, lessons, and procedures of space travel, including how to deal with a dead body in space, what it's like to film an IMAX movie in orbit, what exactly to do when nature calls, and much more.
This Is a Book for People Who Love the Royals by Rebecca Stoeker - Full of facts and stories to delight longtime enthusiasts and new fans alike, This Is a Book for People Who Love the Royals digs into all of the aspects of everyone's favorite monarchy. Uncover the history of British royalty and answers to common questions -- like how royal titles work, who is in the line of succession, and why the guards at Buckingham Palace never smile -- as well as deep dives into fashion, jewelry, and other palace perks.
I may earn money as an affiliate from the Bookshop links in this post.