There is nothing better than picking up a book and not being able to put it down because it is so engrossing. These ten books all grabbed me from the beginning and had me madly turning the pages until I reached the end of the story. I highly recommend them all. I was able to chat with some of the authors on this list - I put an asterisk by each person that I interviewed for the podcast and linked to the interview.
As always, please shop local or use my affiliate Bookshop.org links below which support independent bookstores and the production of my podcast.
This intelligent mystery features the highly likeable FBI neuroscientist Sayer Altair. A bus filled with 24 D.C.-area high school students disappears an hour after it sets out for a tournament in Atlanta, and Agent Altair is called in to locate the missing students. She is drawn into the absorbing case filled with red herrings, where nothing is as it appears. In addition to the solid and clever mystery with a highly satisfying resolution, Cut to the Bone contains architectural facts and details about Washington D.C., including the incorporation of Egyptian symbolism throughout the U.S. capital and details about historical locales. Another plus is a fabulous cast of supporting characters and a solid balance between the mystery and Altair's personal life.
Baneberry Hall, a Victorian mansion in a remote area of Vermont, is the setting of Riley Sager's latest thriller. Twenty-five years ago, Maggie and parents Ewan and Jess lived in the house for three weeks before fleeing in the night, never to return. Following their dramatic escape, Ewan wrote a non-fiction account, entitled House of Horrors, recounting the terrors and evil hauntings they experienced at Baneberry. Following Ewan's death and with no memory of the events in House of Horrors, Maggie returns to the house determined to put the past behind her and prove that the property is not haunted. Alternating between the chapters of House of Horrors and Maggie's present-day stay in Baneberry Hall, the story unfolds as Maggie begins to experience events that happened in her father's book. The story starts slowly but picks up momentum as the creepiness factor ratchets up, and I enjoyed the clever and unexpected ending.
What would you do if you had a brief glimpse into the future and saw that you were living a completely different life than the one you were currently living? In Five Years tackles this topic when Dannie falls asleep and wakes up five years in the future with a different engagement ring, a new apartment, and another man in this new apartment. After spending an hour in the future, Dannie falls back asleep and returns to her regular, present-day life. She is shaken by this fateful hour in the future and struggles to return to her structured life, continually wondering if what she experienced was a dream, a vision or something else entirely. The premise for this book is original, and Serle's execution of the concept is both clever and thought-provoking. I highly recommend this one.
The Last Flight is a high-octane thriller that begins with a bang and never slows down. Two women eager to flee their own lives agree to swap tickets for their flights at the last minute. Claire gives Eva her ticket to Puerto Rico and takes Eva's ticket to Oakland. When the flight to Puerto Rico crashes into the ocean, Claire realizes she must assume Eva's identity to survive, but quickly learns that Eva was not who she claimed to be. Toggling between the two women, the story rapidly unfolds, revealing jaw-dropping twists that you will not see coming. The Last Flight is the best thriller I have read in ages – Clark skillfully blends great characters, beautiful writing and a superb mystery.
Beautifully and lyrically written, Nguyen Phan Que Mai's English debut follows multiple generations of the Tran family against the backdrop of Vietnam's heartrending 20th-century history. From the rise of the Communist government in North Vietnam to the years of conflict during the war itself, The Mountains Sing is historical fiction at its finest – it highlights the impact and cost of the events that led up to the Vietnam War from the Vietnamese people's perspective while interweaving in the language and traditions of their culture. The Mountains Sing is not only a glimpse into Vietnam, but is also a cautionary tale about the impact of a decades-long conflict on the people living through it. I needed lots of tissues, and the Tran family's experiences will stay with me for a long time.
Inti Flynn and a team of biologists arrive in Scotland to help reintroduce wolves into the Highlands through a program similar to the way wolves were returned to Yellowstone National Park. While participating in this venture, Inti also hopes to help her twin sister Aggie recover from a traumatic event in her past. Facing resistance from the locals, Inti struggles to reassure them that the wolves won't harm them as long as they are left alone but instead will assist with balancing the ecosystem by slowing down climate change and environmental degradation. McConaghy's writing is lyrical, and her descriptions of both the wolves and the wild Scottish landscape cause them to leap off the page. Once There Were Wolves is a beautiful and haunting story that will remain with me for a very long time and will be in my top 10 reads of the year. It is truly not to be missed.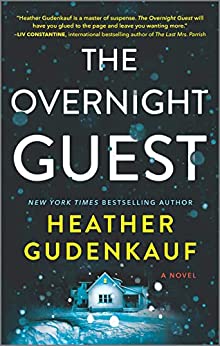 The premise of this thriller hooked me from the beginning. While staying at a remote farmhouse, true crime writer Wylie Lark ends up snowed in as she is trying to write her latest book. The location would be ideal, except that decades earlier, at this same house, two people were brutally murdered and a girl disappeared and has not been seen since. As the storm settles in, Wylie finds herself stuck in the house, haunted by its secrets and her own secrets. When she heads out to walk her dog, she finds a small child alone in the snow right outside the house where she is staying. She brings the child inside for warmth and safety and then begins to hunt for the parents. The twists and turns were a lot of fun in this one and while I figured a few things out, there were enough surprises to keep me madly reading until I got to the end. It was a page turner with a highly satisfying resolution.
This beautifully written debut tells a fictionalized, loosely based version of the relationship between James Taylor and Joni Mitchell in the late 1960s. This coming-of-age tale follows Jane Quinn, a talented singer, as she rockets to stardom, encounters extreme sexism in the music industry, battles with wanting to stay true to herself and her music, whether to choose love or a career, the stigma of mental illness, and more. Brodie brings the music of the era to life and had me wishing I could actually listen to Jane's music. Songs in Ursa Major is truly stunning, and I still think about it all the time.
The Sun Down Motel is a creepy, rundown motel serving as a pit stop for travelers on their way through Fell, New York, that also provides a place for locals to hide out. But as Viv and Carly, two women 35 years apart, learn, there is someone or something else living at the Sun Down, and they both are determined to find out who or what is haunting the motel and why. While it is a ghost story, the book is awesomely creepy but not overly scary. The Sun Down Motel is one of the best books I have read in a while. The characters are so well developed, and I rooted for both Viv and Carly as they sought to understand what was happening at The Sun Down Motel.
Winter Counts by David Heska Wanbli Weiden*
Winter Counts is the first book in a new mystery series starring Virgil Wounded Horse, a vigilante enforcer on the Rosebud Indian Reservation in South Dakota who is hired by those seeking justice when the American legal system or tribal council fails them. Heroin has turned up, and its presence has personally impacted Virgil. He heads to Denver to find the heroin's source and piece together seemingly unrelated events. Weiden's crisp writing examines life on a reservation today. A member of the Sicangu Lakota nation, Weiden details a broken criminal justice system and challenges faced by those preserving cultural identity while finding a place within their larger community.
If you have read any of these, I would love to hear what you think. Feel free to comment below with your thoughts or your favorite page turners that you could not put down.