There are so many fabulous books coming out in Spring 2022, and I had a hard time narrowing down my list of the most anticipated and must-read books of this season. After much deliberation, I chose the 27 books that look the best across a variety of genres. I will be interviewing a number of the authors on this list in the coming months so you can keep an eye out for those episodes - I put an asterisk by each author that I am scheduled to chat with about his or her book.
Short summaries are included from the publishers' descriptions on each book to provide some detail on the selections. And as always, shop local or use my affiliate Bookshop.org links below which support independent bookstores and the production of my podcast.
Home or Away by Kathleen West (March 29th)*
Once Leigh and Susy were close friends and teammates bound for Olympic hockey gold, but when Leigh's sure-fire plan to make the final roster backfired, she left everything behind to start over. Two decades later, Leigh's a successful investment banker, happily married, and the mom of a hockey prodigy, so when a career opportunity lands the family back in Minnesota, Leigh takes the shot for her kid. Back in the ultra-competitive world she left behind, the move puts her in Susy's orbit. Susy can't help but hope that Leigh might lace up her skates and join her in the coaches' box. Susy's coaching decisions are undermined by the all-male board and she knows soon her daughter, Georgie, will be seen as a "girl athlete," relegated to the B team, with less support and opportunity to advance. But Leigh's keeping Susy at arms' length is the only way to hide her history with her coach Jeff Carlson. When he hints of new favors in exchange for her son's ice time, Leigh is caught in the ultimate bind: come clean about what happened when she was an Olympic hopeful and risk her marriage or play Jeff's game. In a moment of desperation, Leigh turns to Susy and realizes the one person she thought was her biggest competitor might turn out to be her biggest ally.
My Patreon community is doing an advance read and author chat with Kathleen for this book. You can join here.
What Happened to the Bennetts by Lisa Scottoline (March 29th)
Jason Bennett is a suburban dad who owns a court-reporting business, but one night, his life takes a horrific turn. He is driving his family home after his daughter's lacrosse game when a pickup truck begins tailgating them, on a dark stretch of road. Suddenly two men jump from the pickup and pull guns on Jason, demanding the car. A horrific flash of violence changes his life forever. Later that awful night, Jason and his family receive a visit from the FBI. The agents tell them that the carjackers were members of a dangerous drug-trafficking organization - and now Jason and his family are in their crosshairs. The agents advise the Bennetts to enter the witness protection program right away, and they have no choice but to agree. But WITSEC was designed to protect criminal informants, not law-abiding families. Taken from all they know, trapped in an unfamiliar life, the Bennetts begin to fall apart at the seams. Then Jason learns a shocking truth and realizes that he has to take matters into his own hands.
Deadly Declarations by Landis Wade (April 5th)*
It's modern day in the New South City of Charlotte, North Carolina, when three retirees at the Independence Retirement Community, a/k/a The Indie, team up to solve two mysteries related to the death of a 96-year-old resident. Why was his manuscript about the Mecklenburg Declaration of Independence missing when they found his body? And why did his handwritten will dated the day he died disinherit his beloved granddaughter and leave his $50 million fortune to Sue Ellen Parker, the most despised resident at the Indie? At the urging of Chuck Yeager Alexander, an optimistic soul who loves historical conspiracies, and Harriet Keaton, a former businesswoman with an extreme dislike of Sue Ellen Parker, Craig Travail, a trial lawyer recently ousted from his law firm after 40 years, reluctantly goes to court to challenge the dead man's will for the granddaughter. This decision sets in motion a series of dangerous events that could lead the threesome to discover the answer to a revolutionary war period mystery that has evaded historians for 250 years.
Fool Me Once by Ashley Winstead (April 5th)*
Lee Stone is a twenty-first-century woman: she kicks butt at her job as a communications director at a women-run electric car company (that's better than Tesla, thank you), and after work she is "Stoner," drinking guys under the table and never letting any of them get too comfortable in her bed… That's because Lee's learned one big lesson: never trust love. Four major heartbreaks set her straight, from her father cheating on her mom all the way to Ben Laderman in grad school—who wasn't actually cheating, but she could have sworn he was, so she reciprocated in kind. Then Ben shows up five years later, working as a policy expert for the most liberal governor in Texas history, just as Lee is trying to get a clean energy bill rolling. Things get complicated—and competitive—as Lee and Ben are forced to work together. Tension builds just as old sparks reignite, fanning the flames for a romantic dustup the size of Texas.
In on the Joke: The Original Queens of Standup Comedy by Shawn Levy (April 5th)
Today, women are ascendant in stand-up comedy, even preeminent. They make headlines, fill arenas, spawn blockbuster movies. But before Amy Schumer slayed, Tiffany Haddish killed, and Ali Wong drew roars, the very idea of a female comedian seemed, to most of America, like a punch line. And it took a special sort of woman—indeed, a parade of them—to break and remake the mold. In on the Joke is the story of a group of unforgettable women who knocked down the doors of stand-up comedy so other women could get a shot. It spans decades, from Moms Mabley's rise in Black vaudeville between the world wars, to the roadhouse ribaldry of Belle Barth and Rusty Warren in the 1950s and '60s, to Elaine May's co-invention of improv comedy, to Joan Rivers's and Phyllis Diller's ferocious ascent to mainstream stardom. These women refused to be defined by type and tradition, facing down indifference, puzzlement, nay-saying, and unvarnished hostility. They were discouraged by agents, managers, audiences, critics, fellow performers—even their families. And yet they persevered against the tired notion that women couldn't be funny, making space not only for themselves, but for the women who followed them.
Bomb Shelter by Mary Laura Philpott (April 12th)*
A lifelong worrier, Philpott always kept an eye out for danger, a habit that only intensified when she became a parent. But she looked on the bright side, too, believing that as long as she cared enough, she could keep her loved ones safe. Then, in the dark of one quiet, pre-dawn morning, she woke abruptly to a terrible sound—and found her teenage son unconscious on the floor. In the aftermath of a crisis that darkened her signature sunny spirit, she wondered: If this happened, what else could happen? And how do any of us keep going when we can't know for sure what's coming next? Leave it to the writer whose critically acclaimed debut had us "laughing and crying on the same page" (NPR) to illuminate what it means to move through life with a soul made of equal parts anxiety and optimism (and while she's at it, to ponder the mysteries of backyard turtles and the challenges of spatchcocking a turkey).
Left on Tenth: A Second Chance at Life by Delia Ephron (April 12th)*
Delia Ephron had struggled through several years of heartbreak. She'd lost her sister, Nora, and then her husband, Jerry, both to cancer. Several months after Jerry's death, she decided to make one small change in her life—she shut down his landline, which crashed her internet. She ended up in Verizon hell. She channeled her grief the best way she knew: by writing a New York Times op-ed. The piece caught the attention of Peter, a Bay Area psychiatrist, who emailed her to commiserate. Recently widowed himself, he reminded her that they had shared a few dates fifty-four years before, set up by Nora. Delia did not remember him, but after several weeks of exchanging emails and sixties folk songs, he flew east to see her. They were crazy, utterly, in love. But this was not a rom-com: four months later she was diagnosed with AML, a fierce leukemia. In Left on Tenth, Delia Ephron enchants as she seesaws us between tears and laughter, navigating the suicidal lows of enduring cutting-edge treatment and the giddy highs of a second chance at love.
The Lost Book of Eleanor Dare by Kimberly Brock (April 12th)*
What happened to the Lost Colony of Roanoke remains a mystery, but the women who descended from Eleanor Dare have long known that the truth lies in what she left behind: a message carved onto a large stone and the contents of her treasured commonplace book. Brought from England on Eleanor's fateful voyage to the New World, her book was passed down through the fifteen generations of daughters who followed as they came of age. Thirteen-year-old Alice had been next in line to receive it, but her mother's tragic death fractured the unbroken legacy and the Dare Stone and the shadowy history recorded in the book faded into memory. Alice is a young widow and a mother herself when she is unexpectedly presented with her birthright: the deed to Evertell, her abandoned family home and the history she thought forgotten. Determined to sell the property and step into a future free of the past, Alice returns to Savannah with her own thirteen-year-old daughter, Penn, in tow. But when Penn's curiosity over the lineage she never knew begins to unveil secrets from beneath every stone and Eleanor's book is finally found, Alice is forced to reckon with the sacrifices made for love and the realities of their true inheritance as daughters of Eleanor Dare.
Paradise Falls: The True Story of an Environmental Catastrophe by Keith O'Brien (April 12th)
Lois Gibbs, Luella Kenny, and other mothers loved their neighborhood on the east side of Niagara Falls. In the spring of 1977, pungent odors began to seep into these little houses, and it didn't take long for worried mothers to identify the curious scent. It was the sickly-sweet smell of chemicals. In this propulsive work of narrative reportage, Keith O'Brien uncovers how Lois Gibbs and Luella Kenny exposed the poisonous secrets buried in their neighborhood. The school and playground had been built atop an old canal—the Love Canal, it was called. The city's largest employer, Hooker Chemical, had quietly filled this canal with 20,000 tons of toxic waste in the 1940s and 1950s. This waste was now leaching to the surface, causing a public health crisis the likes of which America had never seen before—and sparking new and specific fears. Luella Kenny believed the chemicals were making her son sick. O'Brien braids together the previously unknown stories of Hooker Chemical's deeds; the local newspaperman, scientist, and congressional staffer who tried to help; the city and state officials who didn't; and the heroic women who stood up to corporate and governmental indifference to save their families and their children. They would take their fight all the way to the top, winning support from the E.P.A. and the White House, even President Jimmy Carter himself, and by the time it was over, they would capture the American imagination.
Take My Hand by Dolen Perkins-Valdez (April 12th)*
Montgomery, Alabama, 1973. Fresh out of nursing school, Civil Townsend intends to make a difference, especially in her African American community. At the Montgomery Family Planning Clinic, she hopes to help women shape their destinies, to make their own choices for their lives and bodies. But when her first week on the job takes her along a dusty country road to a worn-down one-room cabin, Civil is shocked to learn that her new patients, Erica and India, are children—just eleven and thirteen years old. Neither of the Williams sisters has even kissed a boy, but they are poor and Black, and for those handling the family's welfare benefits, that's reason enough to have the girls on birth control. As Civil grapples with her role, she takes India, Erica, and their family into her heart. Until one day she arrives at their door to learn the unthinkable has happened, and nothing will ever be the same for any of them. Decades later, with her daughter grown and a long career in her wake, Dr. Civil Townsend is ready to retire, to find her peace, and to leave the past behind. But there are people and stories that refuse to be forgotten.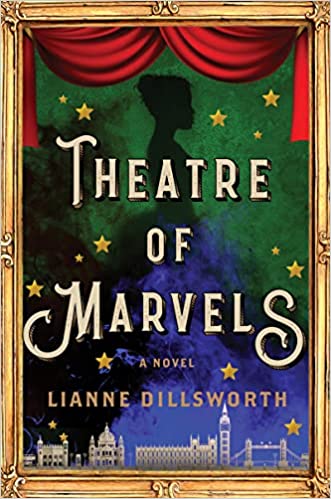 Theatre of Marvels by Lianne Dillsworth (April 12th)
As an orphan in the slums of St. Giles, Zillah was determined never to become part of the notorious Blackbird gang. With nothing to rely on but her own wit, she convinces infamous producer Marcus Stratton to hire her for his variety show in nineteenth-century London. But the act Stratton has in mind for Zillah is as The Great Amazonia, "a savage queen from darkest Africa." His drunken audience laps this up, and as Zillah's star rises, Stratton makes clear, in no uncertain terms, that her survival depends on her true identity staying secret. This careful planning is upended when Zillah finds herself caught between the attention of a mysterious Black gentleman and Stratton's Viscount friend, who promises her the world. When another young Black woman in Stratton's employ goes missing, Zillah realizes she'll have to make a choice: follow her ambitions, or stay true to herself.
The Good Left Undone by Adriana Trigiani (April 26th)*
Matelda, the Cabrelli family's matriarch, has always been brusque and opinionated. Now, as she faces the end of her life, she is determined to share a long-held secret with her family about her own mother's great love story: with her childhood friend, Silvio, and with dashing Scottish sea captain John Lawrie McVicars, the father Matelda never knew. . . .In the halcyon past, Domenica Cabrelli thrives in the coastal town of Viareggio until her beloved home becomes unsafe when Italy teeters on the brink of World War II. Her journey takes her from the rocky shores of Marseille to the mystical beauty of Scotland to the dangers of wartime Liverpool—where Italian Scots are imprisoned without cause—as Domenica experiences love, loss, and grief while she longs for home. A hundred years later, her daughter, Matelda, and her granddaughter, Anina, face the same big questions about life and their family's legacy, while Matelda contemplates what is worth fighting for. But Matelda is running out of time, and the two timelines intersect and weave together in unexpected and heartbreaking ways that lead the family to shocking revelations and, ultimately, redemption.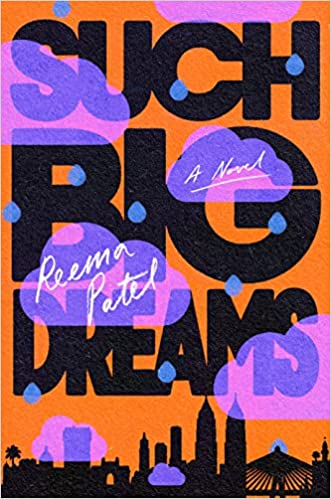 Such Big Dreams by Reema Patel (April 26th)
Rakhi is a twenty-three-year-old haunted by the grisly aftermath of an incident that led to the loss of her best friend eleven years ago. Constantly reminded she doesn't belong, Rakhi lives alone in a Mumbai slum, working as a lowly office assistant at Justice For All, a struggling human-rights law organization headed by the renowned lawyer who gave her a fresh start. Fiercely intelligent and in possession of a sharp wit and an even sharper tongue, Rakhi is nobody's fool, even if she is underestimated by everyone around her. Rakhi's life isn't much, but she's managing. That is, until Rubina Mansoor, a fading former Bollywood starlet, tries to edge her way back into the spotlight by becoming a celebrity ambassador for Justice For All. Steering the organization into uncharted territories, she demands an internship for Alex, a young family friend from Canada and Harvard-bound graduate student. Ambitious, persistent, and naïve, Alex persuades Rakhi to show him "the real" India. In exchange, he'll do something to further Rakhi's dreams in a transaction that seems harmless, at first. As old guilt and new aspirations collide, everything Rakhi once knew to be true is set ablaze.
Breathless by Amy McCulloch (May 3rd)
Journalist Cecily Wong is in over her head. She's come to Manaslu, the eighth-highest peak in the world, to interview internationally famous mountaineer Charles McVeigh on the last leg of a record-breaking series of summits. She's given up everything for this story—her boyfriend, her life savings, the peace she's made with her climbing failures in the past—but it's a career-making opportunity. It could finally put her life back on track. But when one climber dies in what everyone else assumes is a freak accident, she fears their expedition is in danger. And by the time a second climber dies, it's too late to turn back. Stranded on a mountain in one of the most remote regions of the world, she'll have to battle more than the elements in a harrowing fight for survival against a killer who is picking them off one by one.
Darling Girl by Liz Michalski (May 3rd)
Life is looking up for Holly Darling, granddaughter of Wendy—yes, that Wendy. She's running a successful skincare company; her son, Jack, is happy and healthy; and the tragedy of her past is well behind her . . . until she gets a call that her daughter, Eden, who has been in a coma for nearly a decade, has gone missing from the estate where she's been long tucked away. And, worst of all, Holly knows who must be responsible: Peter Pan, who is not only very real, but more dangerous than anyone could imagine. Eden's disappearance is a disaster for more reasons than one. She has a rare condition that causes her to age rapidly—ironic, considering her father is the boy who will never grow up—which also makes her blood incredibly valuable. It's a secret that Holly is desperate to protect, especially from Eden's half-brother, Jack, who knows nothing about his sister or the crucial role she plays in his life. Holly has no one to turn to—her mother is the only other person in the world who knows that Peter is more than a story, but she refuses to accept that he is not the hero she's always imagined. Desperate, Holly enlists the help of Christopher Cooke, a notorious ex-soldier, in the hopes of rescuing Eden before it's too late . . . or she may lose both her children.
Patience is a Subtle Thief by Abi Ishola-Ayodeji (May 3rd)
For as long as she can remember, Patience Adewale, the eldest daughter of Chief Kolade Adewale, has been waiting for confirmation that she is loved, that there is a place where she truly belongs. Patience lives a sheltered life within the secure walls of the family's mansion in Ibadan, but finds no comfort from her distant father and stepmother Modupe. Her only ally is her younger sister, yet even Margaret's love and support cannot overcome Patience's insecurity. More than anything, Patience wants to know why her father and uncle banished her mother from their compound years ago—and whether her mother is even alive. Determined to discover the truth, Patience embarks on a desperate search to find her mother. Answers begin to surface when she moves to Lagos for university and unexpectedly reconnects with her cousin Kash. Kash and his friend Emeka are petty thieves with an opportunity to make a big score. To pull it off they need help—and enlist Patience and Emeka's straight-arrow brother, Chike, to become partners in their scheme. The thieves' plan is to quit after this job. But unforeseen events lead to unexpected consequences—and demand a price from Patience that may be too steep to pay.
The Key to Deceit by Ashley Weaver (May 10th)*
London, 1940. After years of stealing from the rich and giving to the poor―well, to themselves, anyway―Ellie McDonnell and her family have turned over a new leaf as they help the government's war effort. It's true that the straight-laced Major Ramsey didn't give them much choice, but still, Ellie must admit she doesn't miss breaking and entering as much as she might have thought. What she does miss is the challenge of unlocking an impossible code and the adrenaline rush that comes from being somewhere she shouldn't. So when Major Ramsey turns up unannounced with another job, she can't say no. A woman's body has been found floating in the Thames, with a bracelet locked onto her wrist, and a cameo locket attached to it. It's clear this woman was involved in espionage, but whose side was she on? Who was she reporting to? And who wanted her dead?
The Movement Made Us: A Generational Fight for Civil Rights by David J Dennis, Jr. with David J Dennis, Sr. (May 10th)*
A dynamic family exchange that pivots between the voices of a father and son, The Movement Made Us is a unique work of oral history and memoir, chronicling the extraordinary story of the Civil Rights Movement of the 1960s and its living legacy embodied in Black Lives Matter. David Dennis Sr, a core architect of the movement, speaks out for the first time, swapping recollections both harrowing and joyful with David Jr, a journalist working on the front lines of change today. Taken together, their stories paint a critical portrait of America, casting one nation's image through the lens of two individual Black men and their unique relationship. A crucial addition to Civil Rights history, The Movement Made Us is the story of a nation reckoning with change and the hopes, struggles, setbacks, and triumphs of modern Black life. This is it: the extant chronicle of why we live, why we move, and for what we are made.
Bloomsbury Girls by Natalie Jenner (May 17th)*
Bloomsbury Books is an old-fashioned new and rare book store that has persisted and resisted change for a hundred years, run by men and guided by the general manager's unbreakable fifty-one rules. But in 1950, the world is changing, especially the world of books and publishing, and at Bloomsbury Books, the girls in the shop have plans. Vivien Lowry: Single since her aristocratic fiancé was killed in action during World War II, the brilliant and stylish Vivien has a long list of grievances--most of them well justified and the biggest of which is Alec McDonough, the Head of Fiction. Grace Perkins: Married with two sons, she's been working to support the family following her husband's breakdown in the aftermath of the war. Torn between duty to her family and dreams of her own. Evie Stone: In the first class of female students from Cambridge permitted to earn a degree, Evie was denied an academic position in favor of her less accomplished male rival. Now she's working at Bloomsbury Books while she plans to remake her own future. As they interact with various literary figures of the time--Daphne Du Maurier, Ellen Doubleday, Sonia Blair (widow of George Orwell), Samuel Beckett, Peggy Guggenheim, and others--these three women with their complex web of relationships, goals and dreams are all working to plot out a future that is richer and more rewarding than anything society will allow.
The Grand Design by Joy Callaway (May 17th)*
In 1908, young Dorothy Tuckerman chafes under the bland, beige traditions of her socialite circles. Only the aristocracy's annual summer trips to The Greenbrier resort in West Virginia spark her imagination. In this naturally beautiful place, an unexpected romance with an Italian racecar driver gives Dorothy a taste of the passion and adventure she wants. But her family intervenes, sentencing Dorothy to the life she hopes to escape. Thirty-eight years later, as World War II draws to a close, Dorothy has done everything a woman in the early twentieth century should not: she has divorced her husband—scandalous—and established America's first interior design firm—shocking. Now, Dorothy returns to The Greenbrier with the assignment to restore it to something even greater than its original glory. With her beloved company's future hanging in the balance and brimming with daring, unconventional ideas, Dorothy has one more chance to give her dreams wings or succumb to her what society tells her is her inescapable fate.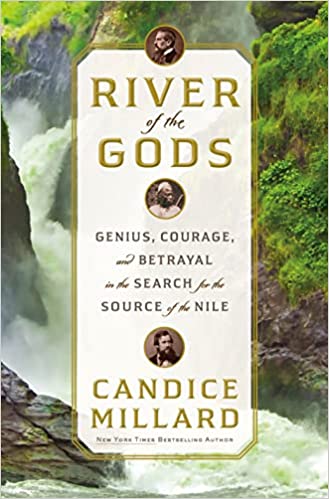 River of the Gods by Candice Millard (May 17th)
For millennia the location of the Nile River's headwaters was shrouded in mystery. In the 19th century, there was a frenzy of interest in ancient Egypt. At the same time, European powers sent off waves of explorations intended to map the unknown corners of the globe. Richard Burton and John Hanning Speke were sent by the Royal Geographical Society to claim the prize for England. From the start the two men clashed. Two years in, deep in the African interior, Burton became too sick to press on, but Speke did, and claimed he found the source in a great lake that he christened Lake Victoria. When they returned to England, Speke rushed to take credit, disparaging Burton. Burton disputed his claim, and Speke launched another expedition to Africa to prove it. The two became venomous enemies, with the public siding with the more charismatic Burton, to Speke's great envy. The day before they were to publicly debate, Speke shot himself. Yet there was a third man on both expeditions, his name obscured by imperial annals, whose exploits were even more extraordinary. This was Sidi Mubarak Bombay, who was enslaved. When the man who purchased him died, he made his way into the local Sultan's army, and eventually traveled back to Africa, where he used his resourcefulness and raw courage to forge a living as a guide. Without Bombay and men like him, who led, carried, and protected the expedition, neither Englishman would have come close to the headwaters of the Nile, or perhaps even survived.
Take Your Breath Away by Linwood Barclay (May 17th)*
One weekend, while Andrew Mason was on a fishing trip, his wife, Brie, vanished without a trace. Most everyone assumed Andy had got away with murder—it's always the husband, isn't it?—but the police could never build a strong case against him. For a while, Andy hit rock bottom—he drank too much to numb the pain, was abandoned by all his friends save one, nearly lost his business, and became a pariah in the place he once called home. Now, six years later, Andy has finally put his life back together. He sold the house he once shared with Brie and moved away. He's settled down with a new partner, Jayne, and life is good. But Andy's peaceful world is about to shatter. One day, a woman shows up at his old address, screaming, "Where's my house? What's happened to my house?" And then, just as suddenly as she appeared, the woman—who bears a striking resemblance to Brie—is gone. The police are notified and old questions—and dark suspicions—resurface. Could Brie really be alive after all these years? If so, where has she been? It soon becomes clear that Andy's future and the lives of those closest to him depend on discovering what the hell is going on.
My Patreon community is doing an advance read and author chat with Linwood for this book. You can join here.
The Lost Summers of Newport by Beatriz Williams, Lauren Willig, and Karen White (May 17th)
2019: Andie Figuero has just landed her dream job as a producer of Mansion Makeover, a popular reality show about restoring America's most lavish historic houses. Andie has high hopes for her latest project: the once glorious but gently crumbling Sprague Hall in Newport, Rhode Island, summer resort of America's gilded class. But Andie runs into trouble: the reclusive heiress who still lives in the mansion, Lucia "Lucky" Sprague, will only allow the show to go forward on two conditions: One, nobody speaks to her. Two, nobody touches the mansion's ruined boathouse.
1899: Ellen Daniels has been hired to give singing lessons to Miss Maybelle Sprague, a naive young Colorado mining heiress whose stepbrother John has poured their new money into buying a place among Newport's elite. John is determined to see Maybelle married off to a fortune-hunting Italian prince, and Ellen is supposed to polish up the girl for her launch into society.
1958: Lucia "Lucky" Sprague has always felt like an outsider at Sprague Hall. When she and her grandmother—the American-born Princess di Conti—fled Mussolini's Italy, it seemed natural to go back to the imposing Newport house Nana owned but hadn't seen since her marriage in 1899. Over the years, Lucky's lost her Italian accent and found a place for herself among the yachting set by marrying Stuyvesant Sprague. But one fateful night in the mansion's old boathouse will uncover a devastating truth...and change everything she thought she knew about her past.
Our Last Days in Barcelona by Chanel Cleeton (May 24th)*
Barcelona, 1964. Exiled from Cuba after the revolution, Isabel Perez has learned to guard her heart and protect her family at all costs. After Isabel's sister Beatriz disappears in Barcelona, Isabel goes to Spain in search of her. Joining forces with an unlikely ally thrusts Isabel into her sister's dangerous world of espionage, but it's an unearthed piece of family history that transforms Isabel's life.
Barcelona, 1936. Alicia Perez arrives in Barcelona after a difficult voyage from Cuba, her marriage in jeopardy and her young daughter Isabel in tow. Violence brews in Spain, the country on the brink of civil war, the rise of fascism threatening the world. When Cubans journey to Spain to join the International Brigades, Alicia's past comes back to haunt her as she is unexpectedly reunited with the man who once held her heart.

The Messy Lives of Book People by Phaedra Patrick (May 31st)
Mother of two Liv Green barely scrapes by as a maid to make ends meet, often finding escape in a good book while daydreaming of becoming a writer herself. So she can't believe her luck when she lands a job housekeeping for her personal hero, megabestselling author Essie Starling, a mysterious and intimidating recluse. The last thing Liv expected was to be the only person Essie talks to, which leads to a tenuous friendship.

But when Essie dies suddenly, a devastated Liv is astonished to learn of her last wish: for Liv to complete Essie's final novel. But to do so Liv will have to step into Essie's shoes, and as Liv begins to write, she uncovers secrets from the past that reveal a surprising connection between the two women—one that will change Liv's own story forever…
The Wedding Dress Sewing Circle by Jennifer Ryan (May 31st)
After renowned fashion designer Cressida Westcott loses both her home and her design house in the London Blitz, she has nowhere to go but the family manor house she fled decades ago. Praying that her niece and nephew will be more hospitable than her brother had been, she arrives with nothing but the clothes she stands in, at a loss as to how to rebuild her business while staying in a quaint country village. Her niece, Violet Westcott, is thrilled that her famous aunt is coming to stay—the village has been interminably dull with all the men off fighting. But just as Cressida arrives, so does Violet's conscription letter. It couldn't have come at a worse time; how will she ever find a suitably aristocratic husband if she has to spend her days wearing a frumpy uniform and doing war work? Meanwhile, the local vicar's daughter, Grace Carlisle, is trying in vain to repair her mother's gown, her only chance of a white wedding. When Cressida Westcott appears at the local Sewing Circle meeting, Grace asks for her help—but Cressida has much more to teach the ladies than just simple sewing skills.Before long, Cressida's spirit and ambition galvanizes the village group into action, and they find themselves mending wedding dresses not only for local brides, but for brides across the country.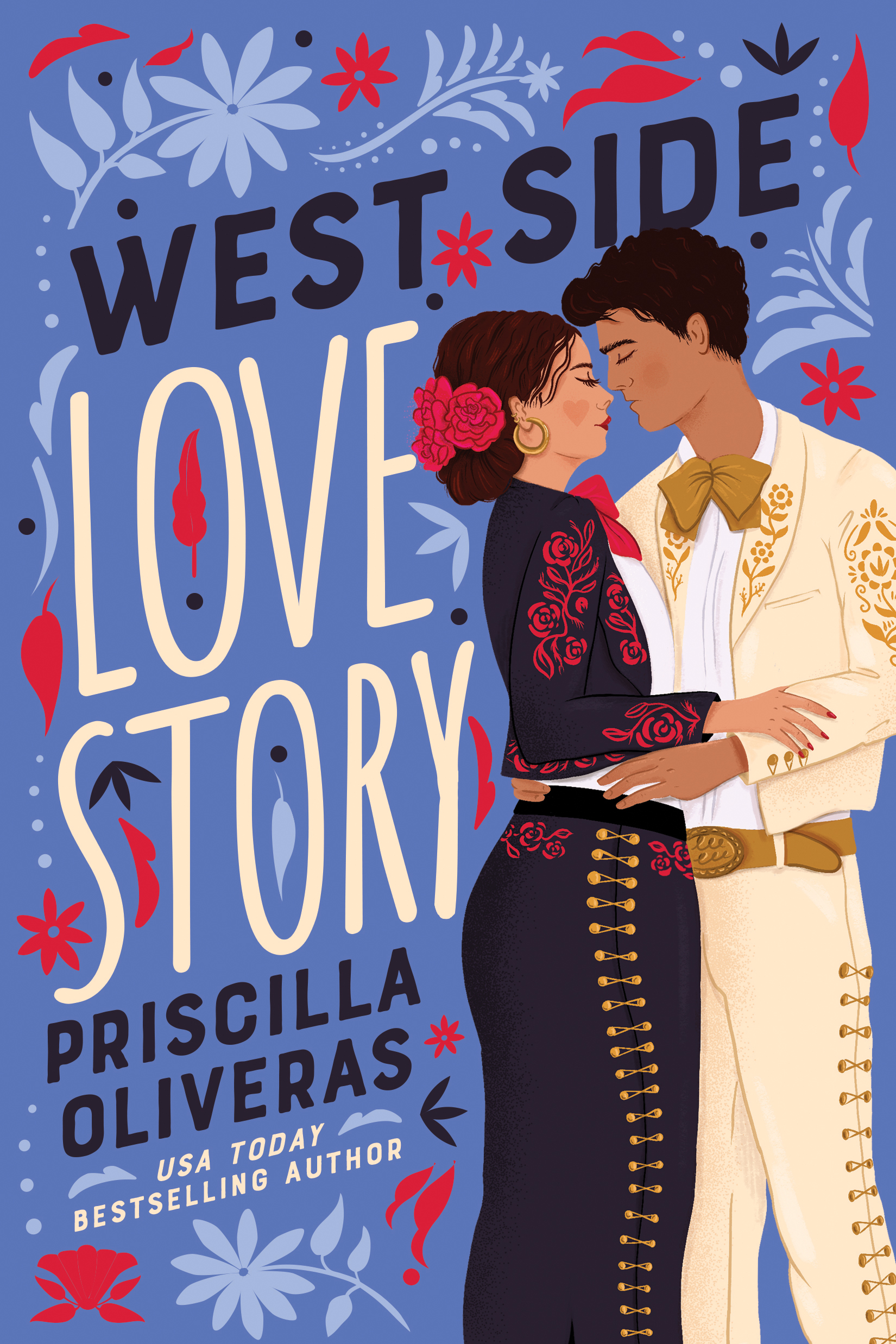 West Side Love Story by Priscilla Oliveras (June 1st)
Having grown up in the nurturing household of Casa Capuleta, Mariana will do anything for familia. To solve her adoptive parents' financial problems amid their rapidly changing San Antonio comunidad, Mariana and her younger sisters are determined to win the Battle of the Mariachi Bands. That means competing against Hugo Montero, their father's archnemesis, and his band and escalating a decades-old feud. It also raises the stakes of Mariana's forbidden attraction for a certain dark-eyed mariachi who sets her heart racing. To Angelo Montero's familia, Mariana is also strictly off-limits. But that doesn't stop him from pursuing her. As their secret affair intensifies and the competition grows fierce, they're swept up in a brewing storm of betrayals, rivalries, and broken ties. Against the odds, they vow to bring peace. But sacrifices must be made and consequences weighed for two star-crossed lovers to make beautiful music together.