The second half of 2022 is chock full of new titles in the historical fiction genre. I created this list of the standouts for this time period to help readers narrow down their choices and to help them find the best books in the genre for this year. I have already read a few of them and include my comments on those that I have finished. I will update my comments on those that I read in the future.
Short summaries are included from the publishers' descriptions on each book to provide some detail on the selections. And as always, shop local or if you purchase the books online, I would be so grateful if you would use my affiliate Bookshop.org links below which support independent bookstores and the production of my podcast. In addition to helping support my show, your purchases allow me to show sales numbers from my recommendations, which helps me recruit authors to come on my podcast and participate in other events.
Joan: A Novel of Joan of Arc by Katherine J. Chen (July 5th)
1412. France is mired in a losing war against England. Its people are starving. Its king is in hiding. From this chaos emerges a teenage girl who will turn the tide of battle and lead the French to victory, an unlikely hero whose name will echo across the centuries. In Katherine J. Chen's hands, the myth and legend of Joan of Arc is transformed into a flesh-and-blood young woman: reckless, steel-willed, and brilliant. This deeply researched novel is a sweeping narrative of her life, from a childhood steeped in both joy and violence to her meteoric rise to fame at the head of the French army, where she navigates both the perils of the battlefield and the equally treacherous politics of the royal court. Many are threatened by a woman who leads, and Joan draws wrath and suspicion from all corners, even as her first taste of fame and glory leave her vulnerable to her own powerful ambition.
Sister Mother Warrior by Vanessa Riley (July 12th)
Gran Toya: Born in West Africa, Abdaraya Toya was one of the legendary minos--women called "Dahomeyan Amazons" by the Europeans--who were specially chosen female warriors consecrated to the King of Dahomey. Betrayed by an enemy, kidnapped, and sold into slavery, Toya wound up in the French colony of Saint Domingue. Among the motherless children she helped raise was a man who would become the revolutionary Jean-Jacques Dessalines. When the enslaved people rose up, Toya, ever the warrior, was at the forefront of the rebellion that changed the course of history.
Marie-Claire: A free woman of color, Marie-Claire Bonheur was raised in an air of privilege and security because of her wealthy white grandfather. With a passion for charitable work, she grew up looking for ways to help those oppressed by a society steeped in racial and economic injustices. Falling in love with Jean-Jacques Dessalines, an enslaved man, was never the plan, yet their paths continued to cross and intertwine, and despite a marriage of convenience to a Frenchman, she and Dessalines had several children.
When war breaks out on Saint Domingue, pitting the French, Spanish, and enslaved people against one another in turn, Marie-Claire and Toya finally meet, and despite their deep differences, they both play pivotal roles in the revolution that will eventually lead to full independence for Haiti and its people.
The Librarian Spy by Madeline Martin (July 26th)
Ava thought her job as a librarian at the Library of Congress would mean a quiet, routine existence. But an unexpected offer from the US military has brought her to Lisbon with a new mission: posing as a librarian while working undercover as a spy gathering intelligence.

Meanwhile, in occupied France, Elaine has begun an apprenticeship at a printing press run by members of the Resistance. It's a job usually reserved for men, but in the war, those rules have been forgotten. Yet she knows that the Nazis are searching for the press and its printer in order to silence them.

As the battle in Europe rages, Ava and Elaine find themselves connecting through coded messages and discovering hope in the face of war.
My comments: This is one of the best World War 2 that I have read. I knew nothing about Portugal during the war as well as how the Resistance pamphlets were printed in France. I highly recommend this one. My Patreon group read this one and universally loved it.
The Codebreaker's Secret by Sara Ackerman (Aug. 2nd)
1943. As war in the Pacific rages on, Isabel Cooper and her codebreaker colleagues huddle in "the dungeon" at Station HYPO in Pearl Harbor, deciphering secrets plucked from the airwaves in a race to bring down the enemy. Isabel has only one wish: to avenge her brother's death. But she soon finds life has other plans when she meets his best friend, a hotshot pilot with secrets of his own.

1965. Fledgling journalist Lu Freitas comes home to Hawai'i to cover the grand opening of the glamorous Mauna Kea Beach Hotel, Rockefeller's newest and grandest project. When a high-profile guest goes missing, Lu forms an unlikely alliance with an intimidating veteran photographer to unravel the mystery. The two make a shocking discovery that stirs up memories and uncovers an explosive secret from the war days. A secret that only a codebreaker can crack.
My comments: I really enjoyed this one. Sara writes about Hawaii during World War 2 - something I had not read much about. And the codebreaking aspects were fascinating.
The War Librarian by Addison Armstrong (Aug. 9th)
1918. Timid and shy Emmaline Balakin lives more in books than her own life. That is, until an envelope crosses her desk at the Dead Letter Office bearing a name from her past, and Emmaline decides to finally embark on an adventure of her own--as a volunteer librarian on the frontlines in France. But when a romance blooms as she secretly participates in a book club for censored books, Emmaline will need to find more courage within herself than she ever thought possible in order to survive.

1976. Kathleen Carre is eager to prove to herself and to her nana that she deserves her acceptance into the first coed class at the United States Naval Academy. But not everyone wants female midshipmen at the Academy, and after tragedy strikes close to home, Kathleen becomes a target. To protect herself, Kathleen must learn to trust others even as she discovers a secret that could be her undoing.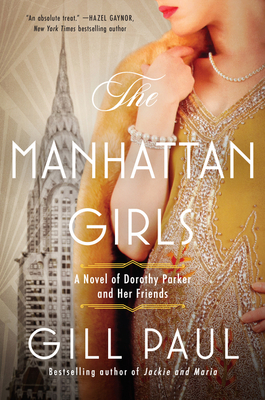 The Manhattan Girls by Gill Paul (Aug. 16th)
New York City 1921: The war is over, fashions are daring, and bootleg liquor is abundant. Here four extraordinary women form a bridge group that grows into a firm friendship. Dorothy Parker: renowned wit, member of the Algonquin Round Table, and more fragile than she seems. Jane Grant: first female reporter for the New York Times, and determined to launch a new magazine she calls The New Yorker. Winifred Lenihan: beautiful and talented Broadway actress, a casting-couch target. And Peggy Leach: magazine assistant by day, brilliant novelist by night. Their romances flourish and falter while their goals sometimes seem impossible to reach and their friendship deepens against the backdrop of turbulent New York City, where new speakeasies open and close, jazz music flows through the air, and bathtub gin fills their glasses. They gossip, they comfort each other, and they offer support through the setbacks. But their biggest challenge is keeping their dear friend Dottie safe from herself.
The Forty Elephants by Erin Bledsoe (Aug. 23rd)
London in the 1920s is no place for a woman with a mind of her own. Gang wars, violence, and an unforgiving world have left pickpocket Alice Diamond scrambling to survive in the Mint, the gritty neighborhood her family has run for generations. When her father goes to jail yet again and her scam artist brother finds himself in debt to the dangerous McDonald crime syndicate, Alice takes over. Fighting for power at every turn, she struggles to protect her father's territory and keep the people she loves safe from some of London's most dangerous criminals. Recruited by the enigmatic Mary Carr, Alice boldly chooses to break her father's edict against gangs and become part of a group of notorious lady shoplifters, the Forty Elephants. Leaving the Mint behind, she and the other girls steal from the area's poshest department stores, and for the first time in her life, Alice Diamond tastes success. But it's not long before she wants more--no matter the cost. And when her past and present collide, there's no escaping the girl from the Mint.
Madwoman by Louisa Treger (Aug. 23rd)
In 1887, young Nellie Bly sets out for New York and a career in journalism, determined to make her way as a serious reporter, whatever that may take. But life in the city is tougher than she imagined. Down to her last dime and desperate to prove her worth, she comes up with a dangerous plan: to fake insanity and have herself committed to the asylum on Blackwell's Island. There, she will work undercover to expose the asylum's wretched conditions. But when the asylum door swings shut behind her, she finds herself in a place of horrors, governed by a cruelty she could never have imagined. Cold, isolated and starving, her days of terror reawaken the traumatic events of her childhood. She entered the asylum of her own free will - but will she ever get out?
The Thread Collectors by Shaunna J. Edwards and Alyson Richman (Aug. 30th)
1863: In a small Creole cottage in New Orleans, an ingenious young Black woman named Stella embroiders intricate maps on repurposed cloth to help enslaved men flee and join the Union Army. Bound to a man who would kill her if he knew of her clandestine activities, Stella has to hide not only her efforts but her love for William, a Black soldier and a brilliant musician. Meanwhile, in New York City, a Jewish woman stitches a quilt for her husband, who is stationed in Louisiana with the Union Army. Between abolitionist meetings, Lily rolls bandages and crafts quilts with her sewing circle for other soldiers, too, hoping for their safe return home. But when months go by without word from her husband, Lily resolves to make the perilous journey South to search for him. As these two women risk everything for love and freedom during the brutal Civil War, their paths converge in New Orleans, where an unexpected encounter leads them to discover that even the most delicate threads have the capacity to save us. Loosely inspired by the authors' family histories, this stunning novel will stay with readers for a long time.
The Marriage Portrait by Maggie O'Farrell (Sept. 6th)
Florence, the 1550s. Lucrezia, third daughter of the grand duke, is comfortable with her obscure place in the palazzo: free to wonder at its treasures, observe its clandestine workings, and to devote herself to her own artistic pursuits. But when her older sister dies on the eve of her wedding to the ruler of Ferrara, Moderna and Regio, Lucrezia is thrust unwittingly into the limelight: the duke is quick to request her hand in marriage, and her father just as quick to accept on her behalf. Having barely left girlhood behind, Lucrezia must now make her way in a troubled court whose customs are opaque and where her arrival is not universally welcomed. Perhaps most mystifying of all is her new husband himself, Alfonso. Is he the playful sophisticate he appeared to be before their wedding, the aesthete happiest in the company of artists and musicians, or the ruthless politician before whom even his formidable sisters seem to tremble? As Lucrezia sits in constricting finery for a painting intended to preserve her image for centuries to come, one thing becomes worryingly clear. In the court's eyes, she has one duty: to provide the heir who will shore up the future of the Ferranese dynasty. Until then, for all of her rank and nobility, the new duchess's future hangs entirely in the balance.
The Two Lives of Sara by Catherine Adel West (Sept. 6th)
Sara King has nothing, save for her secrets and the baby in her belly, as she boards the bus to Memphis, hoping to outrun her past in Chicago. She is welcomed with open arms by Mama Sugar, a kindly matriarch and owner of the popular boardinghouse The Scarlet Poplar. Like many cities in early 1960s America, Memphis is still segregated, but change is in the air. News spreads of the Freedom Riders. Across the country, people like Martin Luther King Jr. are leading the fight for equal rights. Black literature and music provide the stories and soundtrack for these turbulent and hopeful times, and Sara finds herself drawn in by conversations of education, politics and a brighter tomorrow with Jonas, a local schoolteacher. Romance blooms between them, but secrets from Mama Sugar's past threaten their newfound happiness with Sara and Jonas soon caught in the crosshairs, leading Sara to make decisions that will reshape the rest of their lives.
The Ways We Hide by Kristina McMorris (Sept. 6th)
As a little girl raised amid the hardships of Michigan's Copper Country, Fenna Vos learned to focus on her own survival. That ability sustains her even now as the Second World War rages in faraway countries. Though she performs onstage as the assistant to an unruly escape artist, behind the curtain she's the mastermind of their act. Ultimately, controlling her surroundings and eluding traps of every kind helps her keep a lingering trauma at bay. Yet for all her planning, Fenna doesn't foresee being called upon by British military intelligence. Tasked with designing escape aids to thwart the Germans, MI9 seeks those with specialized skills for a war nearing its breaking point. Fenna reluctantly joins the unconventional team as an inventor. But when a test of her loyalty draws her deep into the fray, she discovers no mission is more treacherous than escaping one's past.
The Winter Orphans by Kristin Beck (Sept. 13th)
In a remote corner of France, Jewish refugee Ella Rosenthal has finally found a safe haven. It has been three years since she and her little sister, Hanni, left their parents to flee Nazi Germany, and they have been pursued and adrift in the chaos of war ever since. Now, they shelter among one hundred other young refugees in a derelict castle overseen by the Swiss Red Cross. Swiss volunteers Rösli Näf and Anne-Marie Piguet uphold a common mission: to protect children in peril. Rösli, a stubborn and resourceful nurse, directs the colony of Château de la Hille, and has created a thriving community against all odds. Anne-Marie, raised by Swiss foresters, becomes both caretaker and friend to the children. However, when Germany invades southern France, safeguarding Jewish refugees becomes impossible. Château de la Hille faces unrelenting danger, and Rösli and Anne-Marie realize that the only way to protect the eldest of their charges is to smuggle them out of France. Amid staggering risk, Ella and Hanni embark on a journey that, if successful, could change the course of their lives and grant them a future.
Cora's Kitchen by Kimberly Garrett Brown (Sept. 20th)
It is 1928 and Cora James, a 35-year-old Black librarian who works at the 135th Street library in Harlem, writes Langston Hughes a letter after identifying with one of his poems. She even reveals her secret desire to write. Langston responds, encouraging Cora to enter a writing contest sponsored by the National Urban League, and ignites her dream of being a writer. Cora is frustrated with the writing process, and her willingness to help her cousin Agnes keep her job after she is brutally beaten by her husband lands Cora in a white woman's kitchen working as a cook. In the Fitzgerald home, Cora discovers she has time to write and brings her notebook to work. When she comforts Mrs. Fitzgerald after an argument with Mr. Fitzgerald, a friendship forms. Mrs. Fitzgerald insists Cora call her Eleanor and gives her The Awakening by Kate Chopin to read. Cora is inspired by the conversation to write a story and sends it to Langston. Eventually she begins to question her life and marriage and starts to write another story about a woman's sense of self. Through a series of letters, and startling developments in her dealings with the white family, Cora's journey to becoming a writer takes her to the brink of losing everything, including her life.
The Matchmaker's Gift by Lynda Cohen Loigman (Sept. 20th)
Even as a child in 1910, Sara Glikman knows her gift: she is a maker of matches and a seeker of soulmates. But among the pushcart-crowded streets of New York's Lower East Side, Sara's vocation is dominated by devout older men—men who see a talented female matchmaker as a dangerous threat to their traditions and livelihood. After making matches in secret for more than a decade, Sara must fight to take her rightful place among her peers, and to demand the recognition she deserves. Two generations later, Sara's granddaughter, Abby, is a successful Manhattan divorce attorney, representing the city's wealthiest clients. When her beloved Grandma Sara dies, Abby inherits her collection of handwritten journals recording the details of Sara's matches. But among the faded volumes, Abby finds more questions than answers. Why did Abby's grandmother leave this library to her and what did she hope Abby would discover within its pages? Why does the work Abby once found so compelling suddenly feel inconsequential and flawed? Is Abby willing to sacrifice the career she's worked so hard for in order to keep her grandmother's mysterious promise to a stranger? And is there really such a thing as love at first sight?
My Patreon group is reading this one early and meeting with Lynda on Zoom in August. Want to join?
Jacqueline in Paris by Ann Mah (Sept. 27th)
In August 1949 Jacqueline Bouvier arrives in postwar Paris to begin her junior year abroad. She's twenty years old, socially poised but financially precarious, and all too aware of her mother's expectations that she make a brilliant match. Before relenting to family pressure, she has one year to herself far away from sleepy Vassar College and the rigid social circles of New York, a year to explore and absorb the luminous beauty of the City of Light. Jacqueline is immediately catapulted into an intoxicating new world of champagne and châteaux, art and avant-garde theater, cafés and jazz clubs. She strikes up a romance with a talented young writer who shares her love of literature and passion for culture – even though her mother would think him most unsuitable. But beneath the glitter and rush, France is a fragile place still haunted by the Occupation. Jacqueline lives in a rambling apartment with a widowed countess and her daughters, all of whom suffered as part of the French Resistance just a few years before. In the aftermath of World War II, Paris has become a nest of spies, and suspicion, deception, and betrayal lurk around every corner. Jacqueline is stunned to watch the rise of communism – anathema in America, but an active movement in France – never guessing she is witnessing the beginning of the political environment that will shape the rest of her life—and that of her future husband.
My comments: I absolutely adored this book. Mah's does a beautiful job of inhabiting Jackie's life and vividly describing Paris after the war. I learned so much about both Jackie and Paris during this time period. A must read.
Shrines of Gaiety by Kate Atkinson (Sept. 27th)
1926, and in a country still recovering from the Great War, London has become the focus for a delirious new nightlife. In the clubs of Soho, peers of the realm rub shoulders with starlets, foreign dignitaries with gangsters, and girls sell dances for a shilling a time. The notorious queen of this glittering world is Nellie Coker, ruthless but also ambitious to advance her six children, including the enigmatic eldest, Niven, whose character has been forged in the crucible of the Somme. But success breeds enemies, and Nellie's empire faces threats from without and within. For beneath the dazzle of Soho's gaiety, there is a dark underbelly, a world in which it is all too easy to become lost. With her unique Dickensian flair, Kate Atkinson gives us a window in a vanished world. Slyly funny, brilliantly observant, and ingeniously plotted, Shrines of Gaiety showcases the myriad talents that have made Atkinson one of the most lauded writers of our time.
The Invincible Miss Cust by Penny Haw (Oct. 4th)
Born in Ireland in 1868 to an aristocratic English family, Aleen knows she is destined to work with animals, even if her family is appalled by the idea of a woman pursuing a veterinary career. Going against their wishes but with the encouragement of the guardian assigned to her upon her father's death, Aleen attends the New Veterinary College in Edinburgh, enrolling as A. I. Custance to spare her family the humiliation they fear. At last, she is on her way to becoming a veterinary surgeon! Little does she know her biggest obstacles lie ahead. The Invincible Miss Cust is based on the real life of Aleen Isabel Cust, who defied her family and society to become Britain and Ireland's first woman veterinary surgeon. Through Penny Haw's meticulous research, riveting storytelling, and elegant prose, Aleen's story of ambition, determination, family, friendship, and passion comes to life. It is a story that, even today, women will recognize, of battling patriarchy and an unequal society to realize one's dreams and pave the way for other women in the face of seemingly insurmountable odds.
Miss Del Rio by Barbara Mujica (Oct. 4th)
1910, Mexico. As the country's revolution spreads, Dolores, the daughter of a wealthy banker, must flee her comfortable life in Durango or risk death. Her family settles in Mexico City, where, at sixteen, she marries the worldly Jaime del Río. But in a twist of fate, at a party she meets an influential American director who recognizes in her a natural performer. He invites her to Hollywood, and practically overnight, the famous Miss del Río is born. In California, Dolores's star quickly rises, and her days become a whirlwind of moviemaking and glamorous events. Swept up in Tinseltown's glitzy inner circle, she takes her place among film royalty such as Marlene Dietrich and Orson Welles. But as her career soars to new heights, her personal life becomes increasingly complicated, with family tragedy, painful divorce, and real heartache. And when she's labeled box office poison amid growing prejudice before WWII, Dolores must decide what price she's willing to pay to achieve her dreams and if her heart and future instead lie where it all began…in Mexico. Spanning half a century and narrated by Dolores's fictional hairdresser and longtime friend, Miss del Río traces the life of a trailblazing woman whose legacy in Hollywood and in Mexico still shines bright today.
One Woman's War by Christine Wells (Oct. 4th)
World War II London: When Victoire "Paddy" Bennett first walks into the Admiralty's Room 39, home to the Intelligence Division, all the bright and lively young woman expects is a secretarial position to the charismatic Commander Ian Fleming. But soon her job is so much more, and when Fleming proposes a daring plot to deceive the Germans about Allied invasion plans he requests the newlywed Paddy's help. She jumps at the chance to work as an agent in the field, even after the operation begins to affect her marriage. But could doing her duty for King and country come at too great a cost? Socialite Friedl Stottinger is a beautiful Austrian double agent determined to survive in wartime England, which means working for MI-5, investigating fifth column activity among the British elite at parties and nightclubs. But Friedl has a secret--some years before, she agreed to work for German Intelligence and spy on the British. When her handler at MI-5 proposes that she work with Serbian agent, Dusko Popov, Friedl falls hopelessly in love with the dashing spy. And when her intelligence work becomes fraught with danger, she must choose whether to remain loyal to the British and risk torture and execution by the Nazis, or betray thousands of men to their deaths.
The Picture Bride by Lee Geum-yi (Oct. 11th)
"Your husband is a landowner," they told her.

"Food and clothing is so plentiful, it grows on trees."

"You will be able to go to school."

Of the three lies the matchmaker told Willow before she left home as a picture bride in 1918, the third hurt the most. Never one to be deterred, Willow does all that she can to make the best of her unexpected circumstance. But it isn't long before her dreams for this new life are shattered, first by a husband who never wanted to marry her in the first place, and then by the escalation of the Korean independence movements, unified in goal, but divergent in action, which threaten to split the Hawaiian Korean community and divide Willow's family and friends. Braving the rough waters of these tumultuous years, Willow forges ahead, creating new dreams through her own blood, sweat, and tears; working tirelessly toward a better life for her family and loved ones.
Marmee by Sarah Miller (Oct. 25th)
In 1861, war is raging in the South, but in Concord, Massachusetts, Margaret March has her own battles to fight. With her husband serving as an army chaplain, the comfort and security of Margaret's four daughters— Meg, Jo, Beth, and Amy—now rest on her shoulders alone. Money is tight and every month, her husband sends less and less of his salary with no explanation. Worst of all, Margaret harbors the secret that these financial hardships are largely her fault, thanks to a disastrous mistake made over a decade ago which wiped out her family's fortune and snatched away her daughters' chances for the education they deserve.
Yet even with all that weighs upon her, Margaret longs to do more—for the war effort, for the poor, for the cause of abolition, and most of all, for her daughters. Living by her watchwords, "Hope and keep busy," she fills her days with humdrum charity work to keep her worries at bay. All of that is interrupted when Margaret receives a telegram from the War Department, summoning her to her husband's bedside in Washington, D.C. While she is away, her daughter Beth falls dangerously ill, forcing Margaret to confront the possibility that the price of her own generosity toward others may be her daughter's life.
My Patreon group is reading this one early and meeting with Sarah on Zoom in early October. Want to join?
Gilded Mountain by Kate Manning (Nov. 1st)
In a voice full of questions and sly humor, Sylvie recounts the story of leaving her family's snowbound mountain cabin to work in the local manor house for the Padgetts, owners of the marble mining company that employs her father and dominates the town. Sharp-eyed Sylvie is awed by the luxury around her, fascinated by her employer, the charming "Countess" Inge, and confused by the erratic affections of Jasper, the bookish heir to the family fortune. When she learns that a European King will soon arrive for a hunting party, her fairy-tale ideas of glamour and romance take a dark turn, as she realizes the Padgetts' lofty philosophical talk is at odds with the unfair labor practices that have enriched them. Their servants, the Gradys, descendants of formerly enslaved people have long known this to be true—and are making plans to form a utopian community on the Colorado prairie. Outside the manor walls, Moonstone is roiling with discontent. A handsome union organizer, along with labor leader Mary Harris "Mother" Jones, is stirring up the quarry workers. The editor of the local newspaper—a bold woman who takes Sylvie on as apprentice—is publishing unflattering accounts of the Padgett Company. Sylvie navigates between vastly different worlds, and struggles to find her own voice amidst conflicting loves and loyalties. When the harsh and dangerous winter brings tragedy, Sylvie must choose between silence and revenge.
The Stolen Book of Evelyn Aubrey by Serena Burdick (Nov. 1st)
England, 1898. When Evelyn first married the famous novelist William Aubrey, she was dazzled by his brilliance. But their newlywed bliss is brief when William is gripped by writer's block, and he becomes jealous of Evelyn's writing talent. When he commits the ultimate betrayal—stealing a draft of her novel and passing it off as his own—Evelyn decides to write her way out of their unhappy marriage.

California, 2006. Abigail always wondered about her father, his identity forever lost when her mother unexpectedly died. Or so Abigail thought, until she stumbled upon his photo and a message that her great-great-grandmother was the author Evelyn Aubrey, leading Abigail on a journey to England in search for answers. There, she learns of Evelyn's shocking disappearance and how London society believed she was murdered. But from what she uncovers about Evelyn, Abigail believes her brilliant great-great-grandmother had another plot up her sleeve.
Lost Souls of Leningrad by Suzanne Parry (Nov. 8th)
June 1941. Hitler's armies race toward vulnerable Leningrad. In a matter of weeks, the Nazis surround the city, cut off the food supply, and launch a vicious bombardment. Widowed violinist Sofya Karavayeva and her teenage granddaughter, Yelena, are cornered in the crumbling city. On Leningrad's outskirts, Admiral Vasili Antonov defends his homeland and fights for a future with Sofya. Meanwhile, Yelena's soldier fiancé transports food across the Ice Road—part of the desperate effort to save Leningrad. With their help, the two women inch toward survival, but the war still exacts a steep personal price, even as Sofya's reckoning with a family secret threatens to finish what Hitler started. Equal parts war epic, family saga, and love story, Lost Souls of Leningrad brings to vivid life this little-known chapter of World War II in a tale of two remarkable women—grandmother and granddaughter—separated by years and experience but of one heart in their devotion to each other and the men they love. Neither the oppression of Stalin nor the brutality of Hitler can destroy their courage, compassion, or will in this testament to resilience.
A Matter of Happiness by Tori Whitaker (Nov. 8th)
Melanie Barnett thinks she has it all together. With an ex-fiancé and a pending promotion at a Kentucky bourbon distillery, Melanie has figured out that love and career don't mix. Until she makes a discovery while cleaning her Jordan MX car, a scarlet-red symbol of the Jazz Age's independent women that she inherited from her great-great-great-aunt Violet. Its secret compartment holds Violet's weathered journal—within it an intriguing message: Take from this story what you will, Melanie, and you can bury the rest. Melanie wonders what more there is to learn from Violet's past. In 1921 Violet Bond defers to no one. Hers is a life of adventure in Detroit, the hub of the motorcar boom and the fastest growing city in America. But in an era of speakeasies, financial windfalls, free-spirited friends, and unexpected romance, it's easy to spin out of control. Now, as Melanie's own world takes unexpected turns, her life and Violet's life intersect. Generations apart, they're coming into their own and questioning what modern womanhood—and happiness—really means.
The Call of the Wrens by Jenni L. Walsh (Nov. 15th)
1917 England: An orphan coming of age without a penny to her name, Marion joins the Women's Royal Navy Service (the "Wrens") as a motorcycle despatch rider on the Western Front, assigned to train and deliver carrier pigeons to the front line. Despite the hardships and constant threat of danger, Marion feels as if she finally belongs and that she has a purpose. Meanwhile, she and her childhood best friend, Eddie, dream of a future after the war—until tragedy strikes.

1936 England: A society girl, Evelyn has overcome a childhood disability and has found her true passion in automobile racing. When England enters WWII, Evelyn sees an opportunity to use her skills as a despatch rider, but her parents threaten to cut her off if she doesn't start acting like a lady and marry the man they have chosen for her. Meanwhile, a fellow Wren shows up at Marion's door with an unwelcome call to return to her service.
The Sunshine Girls by Molly Fader (Dec. 6th)
1967 Iowa. Nursing school roommates BettyKay and Kitty don't have much in common. A farmer's daughter, BettyKay has risked her family's disapproval to make her dreams come true away from her small rural town. Cosmopolitan Kitty has always relied on her beauty and smarts to get by and to hide a devastating secret from the past that she can't seem to outrun. Yet the two share a determination to prove themselves in a changing world, forging an unlikely, powerful bond on a campus unkind to women. Before their first year is up, tragedy strikes, and the women's paths are forced apart. But against all odds, a decades-long friendship forms, persevering through love, marriage, failure and death, from the jungles of Vietnam to the glamorous circles of Hollywood. Until one snowy night leads their relationship to the ultimate crossroads. Fifty years later, two estranged sisters are shocked when a famous movie star shows up at their mother's funeral. Over one tumultuous weekend, the women must reckon with a dazzling truth about their family that will alter their lives forever…
The Book of Everlasting Things by Aanchal Malhotra (Dec. 27th)
On a January morning in 1938, Samir Vij first locks eyes with Firdaus Khan through the rows of perfume bottles in his family's ittar shop in Lahore. Over the years that follow, the perfumer's apprentice and calligrapher's apprentice fall in love with their ancient crafts and with each other, dreaming of the life they will one day share. But as the struggle for Indian independence gathers force, their beloved city is ravaged by Partition. Suddenly, they find themselves on opposite sides: Samir, a Hindu, becomes Indian and Firdaus, a Muslim, becomes Pakistani, their love now forbidden. Severed from one another, Samir and Firdaus make a series of fateful decisions that will change the course of their lives forever. As their paths spiral away from each other, they must each decide how much of the past they are willing to let go, and what it will cost them.
The Lipstick Bureau by Michelle Gable (Dec. 27th)
1944, Rome. Newlywed Niki Novotná is recruited by a new American spy agency to establish a secret branch in Italy's capital. One of the OSS's few female operatives abroad and multilingual, she's tasked with crafting fake stories and distributing propaganda to lower the morale of enemy soldiers. Despite limited resources, Niki and a scrappy team of artists, forgers and others—now nicknamed The Lipstick Bureau—find success, forming a bond amid the cobblestoned streets and storied villas of the newly liberated city. But her work is also a way to escape devastating truths about the family she left behind in Czechoslovakia and a future with her controlling American husband. As the war drags on and the pressure intensifies, Niki begins to question the rules she's been instructed to follow, and her heart leads her in an unexpected direction. But one step out of line, one mistake, could mean life or death…
I would love to hear the historical fiction titles that you are most excited for in 2022 and the ones you have read and loved. Please comment below with all of your thoughts and recommendations!