So many great books are coming out in April. I am excited to highlight some of the titles that I am looking forward to, but that I have not read yet. Several are by authors that I have read and enjoyed their previous books, and others have plots that sound appealing to me.
I have used the publishers' summaries and shortened them a bit.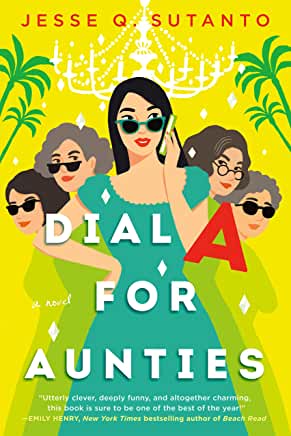 Dial A for Aunties by Jesse Q. Sutanto
A hilariously quirky novel that is equal parts murder mystery, rom-com, and a celebration of mothers and daughters as well as a deep dive into Chinese-Indonesian culture, by debut author Jesse Q. Sutanto.

1 (accidental) murder
2 thousand wedding guests
3 (maybe) cursed generations
4 meddling Asian aunties to the rescue!

When Meddelin Chan ends up accidentally killing her blind date, her meddlesome mother calls for her even more meddlesome aunties to help get rid of the body. Unfortunately, a dead body proves to be a lot more challenging to dispose of than one might anticipate, especially when it is accidentally shipped in a cake cooler to the over-the-top billionaire wedding Meddy, her Ma, and aunties are working, at an island resort on the California coastline. But things go from inconvenient to downright torturous when Meddy's great college love—and biggest heartbreak—makes a surprise appearance amid the wedding chaos. Is it possible to escape murder charges, charm her ex back into her life, and pull off a stunning wedding all in one weekend?
Broken (in the best possible way) by Jenny Lawson
As Jenny Lawson's hundreds of thousands of fans know, she suffers from depression. In Broken, Jenny brings readers along on her mental and physical health journey, offering heartbreaking and hilarious anecdotes along the way.

With people experiencing anxiety and depression now more than ever, Jenny humanizes what we all face in an all-too-real way, reassuring us that we're not alone and making us laugh while doing it. From the business ideas that she wants to pitch to Shark Tank to the reason why Jenny can never go back to the post office, Broken leaves nothing to the imagination in the most satisfying way. And of course, Jenny's long-suffering husband Victor―the Ricky to Jenny's Lucille Ball―is present throughout.

A treat for Jenny Lawson's already existing fans, and destined to convert new ones, Broken is a beacon of hope and a wellspring of laughter when we all need it most.
Caul Baby by Morgan Jerkins
Laila desperately wants to become a mother, but each of her previous pregnancies has ended in heartbreak. She turns to the Melancons, an old and powerful Harlem family known for their caul, a precious layer of skin that is the secret source of their healing power. When a deal for Laila to acquire a piece of caul falls through and her child is stillborn, she is overcome with grief and rage. What she doesn't know is that a baby will soon be delivered in her family and given to the Melancons to raise as one of their own. Hallow is special: she's born with a caul, and their matriarch, Maman, predicts the girl will restore the family's prosperity.

Growing up, Hallow feels that something in her life is not right. Did Josephine, the woman she calls mother, really bring her into the world? As the Melancons' thirst to maintain their status grows, Amara, now a successful lawyer running for district attorney, looks for a way to avenge her longstanding grudge against the family. When mother and daughter cross paths, Hallow will be forced to decide where she truly belongs. Engrossing, unique, and page-turning, Caul Baby illuminates the search for familial connection, the enduring power of tradition, and the dark corners of the human heart.
The End of Men by Christina Sweeney-Baird
The year is 2025, and a mysterious virus has broken out in Scotland--a lethal illness that seems to affect only men. When Dr. Amanda MacLean reports this phenomenon, she is dismissed as hysterical. By the time her warning is heeded, it is too late. The virus becomes a global pandemic--and a political one. The victims are all men. The world becomes alien--a women's world.

What follows is the immersive account of the women who have been left to deal with the virus's consequences, told through first-person narratives. Dr. MacLean; Catherine, a social historian determined to document the human stories behind the male plague; intelligence analyst Dawn, tasked with helping the government forge a new society; and Elizabeth, one of many scientists desperately working to develop a vaccine. Through these women and others, we see the uncountable ways the absence of men has changed society, from the personal--the loss of husbands and sons--to the political--the changes in the workforce, fertility and the meaning of family.


Gold Diggers by Sanjena Sathian
A floundering second-generation teenager growing up in the Bush-era Atlanta suburbs, Neil Narayan is authentic, funny, and smart. He just doesn't share the same drive as everyone around him. His perfect older sister is headed to Duke. His parents' expectations for him are just as high. He tries to want this version of success, but mostly, Neil just wants his neighbor across the cul-de-sac, Anita Dayal.

But Anita has a secret: she and her mother Anjali have been brewing an ancient alchemical potion from stolen gold that harnesses the ambition of the jewelry's original owner. Anjali's own mother in Bombay didn't waste the precious potion on her daughter, favoring her sons instead. Anita, on the other hand, just needs a little boost to get into Harvard. But when Neil--who needs a whole lot more--joins in the plot, events spiral into a tragedy that rips their community apart.

Ten years later, Neil is an oft-stoned Berkeley history grad student studying the California gold rush. His high school cohort has migrated to Silicon Valley, where he reunites with Anita and resurrects their old habit of gold theft--only now, the stakes are higher. Anita's mother is in trouble, and only gold can save her. Anita and Neil must pull off one last heist.
Leonora In the Morning Light by Michaela Carter
1940. A train carrying exiled German prisoners from a labor camp arrives in southern France. Within moments, word spreads that Nazi capture is imminent, and the men flee for the woods, desperate to disappear across the Spanish border. One stays behind, determined to ride the train until he reaches home, to find a woman he refers to simply as "her."
1937. Leonora Carrington is a twenty-year-old British socialite and painter dreaming of independence when she meets Max Ernst, an older, married artist whose work has captivated Europe. She follows him to Paris, into the vibrant revolutionary world of studios and cafes where rising visionaries of the Surrealist movement like Andre Breton, Pablo Picasso, Lee Miller, Man Ray, and Salvador Dali are challenging conventional approaches to art and life. Inspired by their freedom, Leonora begins to experiment with her own work, translating vivid stories of her youth onto canvas and gaining recognition under her own name. It is a bright and glorious age of enlightenment—until the shadow of war looms over Europe and headlines emerge denouncing Max and his circle as "degenerates," leading to his arrest and imprisonment.

As Leonora and Max embark on remarkable journeys together and apart, the full story of their tumultuous and passionate love affair unfolds, spanning time and borders as they seek to reunite and reclaim their creative power in a world shattered by war. When their paths cross with Peggy Guggenheim, an art collector and socialite working to help artists escape to America, nothing will be the same. Based on true events and historical figures, Leonora in the Morning Light is an unforgettable story of love, art, and destiny that restores a twentieth-century heroine to her rightful place in our collective imagination.
When in Vanuatu by Nicki Chen
When Diana quit her job and followed her husband to Manila, she believed the move would work for both of them: Jay would finally have his dream job, and she would take time off from her accounting career to start a family.

Four years later, however, she's still not pregnant. Her fertility doctor advises her to relax--an undertaking that is easier said than done in one of the noisiest, most crowded cities in the world. Nevertheless, Diana tries. She takes up yoga and meditation. She buys goldfish. Then one day, while Jay is away on business, a violent coup d'etat erupts. The rebels bomb the presidential palace and occupy parts of the city.

Clearly, Diana decides, something needs to change. Determined to have a baby while she's still young enough, she convinces Jay to transfer to the small South Pacific nation of Vanuatu, said to be "the most relaxing place on earth." It isn't long before she realizes that the island's tropical beauty hides dangers and disappointments that will test her courage, her marriage, and her ability to open herself up to new possibilities.
When the Stars Go Dark by Paula McLain
Anna Hart is a seasoned missing persons detective in San Francisco with far too much knowledge of the darkest side of human nature. When overwhelming tragedy strikes her personal life, Anna, desperate and numb, flees to the Northern California village of Mendocino to grieve. She lived there as a child with her beloved foster parents, and now she believes it might be the only place left for her. Yet the day she arrives, she learns a local teenage girl has gone missing. The crime feels frighteningly reminiscent of the most crucial time in Anna's childhood, when the unsolved murder of a young girl touched Mendocino and changed the community forever. As past and present collide, Anna realizes that she has been led to this moment. The most difficult lessons of her life have given her insight into how victims come into contact with violent predators. As Anna becomes obsessed with the missing girl, she must accept that true courage means getting out of her own way and learning to let others in.

Weaving together actual cases of missing persons, trauma theory, and a hint of the metaphysical, this propulsive and deeply affecting novel tells a story of fate, necessary redemption, and what it takes, when the worst happens, to reclaim our lives--and our faith in one another.
If you read any of these, I would love to hear what you think!