So many great books are coming out in August. I am excited to highlight both the titles that I am looking forward to and the ones that I have already read. Several are by authors that I have read previously, and others have plots that sound appealing to me.  I will be interviewing a number of the authors on this list in the coming month so you can keep an eye out for those episodes - I put an asterisk by each author that I am scheduled to chat with about his or her book. 
Short summaries are included from the publishers' descriptions on each book to provide some detail on the selections. And as always, shop local or use my affiliate Bookshop.org links below which support independent bookstores and the production of my podcast. 
As a decorated undercover DEA special agent, Garrett Kohl has traveled the world—and fought in most of it—but it's the High Plains of northwest Texas he calls home and dreams of returning to one day. Kohl is in the middle of an assignment in Afghanistan when his commander orders him back to Texas on a short mission expected to take a week at most. But Kohl is unsettled to discover that he's moving from one kind of war to another. The once-peaceful ranching community he loves is under attack by a band of criminals who have infiltrated law enforcement and corrupted local businesses, and are now terrorizing Kohl's own family. Hoping to prevent bloodshed, Kohl tries to resolve matters peacefully. But when the group strikes first, he has no choice but to go on the attack. Unfortunately for the crew of criminals, Garrett Kohl, besides being an elite undercover officer for the DEA, is a battle-hardened Green Beret who spent the better part of his career hunting terrorists.
Down Range is one of my August Buzz Reads picks.  
The Husbands by Chandler Baker (August 3rd)
Nora Spangler is a successful attorney but when it comes to domestic life, she packs the lunches, schedules the doctor appointments, knows where the extra paper towel rolls are, and designs and orders the holiday cards. Her husband works hard, too… but why does it seem like she is always working so much harder? When the Spanglers go house hunting in Dynasty Ranch, an exclusive suburban neighborhood, Nora meets a group of high-powered women with enviably supportive husbands. When she agrees to help with a resident's wrongful death case, she is pulled into the lives of the women there. She finds the air is different in Dynasty Ranch. The women aren't hanging on by a thread. But as the case unravels, Nora uncovers a plot that may explain the secret to having-it-all. One that's worth killing for. Calling to mind a Stepford Wivesgender-swap, The Husbands imagines a world where the burden of the "second shift" is equally shared—and what it may take to get there.
The Husbands is one of my August Buzz Reads picks.
Ten years after graduation, Jessica Miller has planned her triumphant return to her southern, elite Duquette University, down to the envious whispers that are sure to follow in her wake. Everyone is going to see the girl she wants them to see—confident, beautiful, indifferent. Not the girl she was when she left campus, back when Heather Shelby's murder fractured everything, including the tight bond linking the six friends she'd been closest to since freshman year. But not everyone is ready to move on. When the six friends are reunited, they will be forced to confront what happened that night—and the years' worth of secrets each of them would do anything to keep hidden.
Inti Flynn arrives in Scotland with her twin sister, Aggie, to lead a team of biologists tasked with reintroducing fourteen gray wolves into the remote Highlands. She hopes to heal not only the dying landscape, but Aggie, too, unmade by the terrible secrets that drove the sisters out of Alaska. Inti is not the woman she once was, either, changed by the harm she's witnessed—inflicted by humans on both the wild and each other. Yet as the wolves surprise everyone by thriving, Inti begins to let her guard down, even opening herself up to the possibility of love. But when a farmer is found dead, Inti knows where the town will lay blame. Unable to accept her wolves could be responsible, Inti makes a reckless decision to protect them. But if the wolves didn't make the kill, then who did? And what will Inti do when the man she is falling for seems to be the prime suspect?
Once There Were Wolves is one of my August Buzz Reads picks.
The Reading List by Sara Nisha Adams (August 3rd)
Widower Mukesh lives a quiet life in Wembley, in West London after losing his beloved wife. He shops every Wednesday, goes to Temple, and worries about his granddaughter, Priya, who hides in her room reading while he spends his evenings watching nature documentaries. Aleisha is a bright but anxious teenager working at the local library for the summer when she discovers a crumpled-up piece of paper in the back of To Kill a Mockingbird. It's a list of novels that she's never heard of before. Intrigued, she impulsively decides to read every book on the list. As each story gives up its magic, the books transport Aleisha from the painful realities she's facing at home. When Mukesh arrives at the library, desperate to forge a connection with his bookworm granddaughter, Aleisha passes along the reading list…hoping that it will be a lifeline for him too. Slowly, the shared books create a connection between two lonely souls, as fiction helps them escape their grief and everyday troubles and find joy again. 
I read this one and just loved it.
When investment banker Jessie Kim is laid off in a virtual meeting and then overhears why ("she's already being overpaid anyway for a woman" and "Asians are worker bees, not someone who can drum up new deals") she delivers an "eff you guys" speech and storms out. After moving back home to Tennessee to live with her loving but meddling mother and father, she runs into her childhood nemesis—golden child Daniel Choi—at the local Asian grocery store. Jess begrudgingly accepts Daniel's help to relaunch her long abandoned Korean cooking YouTube channel: HANGUK HACKS, showcasing easy meal prep for busy professionals. But just as she discovers Daniel's life isn't as perfect as it seems and there's more to him than meets the eye, he shows up for a life-changing business opportunity, and their rivalry is back on . . .
I read this one and thought it was a ton of fun.
Grace Steele and Eliza Jones may be from completely different backgrounds, but when it comes to the army, specifically the Women's Army Auxiliary Corps (WAAC), they are both starting from the same level. Not only will they be among the first class of female officers the army has even seen, they are also the first Black women allowed to serve. As these courageous women help to form the 6888th Central Postal Directory Battalion, they are dealing with more than just army bureaucracy—everyone is determined to see this experiment fail. For two northern women, learning to navigate their way through the segregated army may be tougher than boot camp. Grace and Eliza know that there is no room for error; they must be more perfect than everyone else. Based on the true story of the 6888th Postal Battalion (the Six Triple Eight), Sisters in Arms explores the untold story of what life was like for the only all-Black, female U.S. battalion to be deployed overseas during World War II. 
Sisters in Arms is one of my August Buzz Reads picks.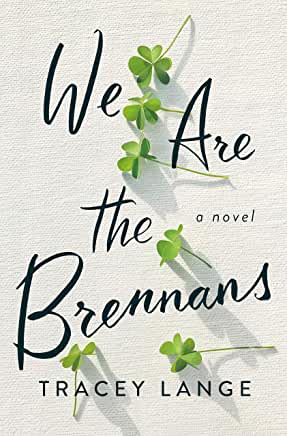 When twenty-nine-year-old Sunday Brennan wakes up in a Los Angeles hospital, bruised and battered after a drunk driving accident she caused, she swallows her pride and goes home to her family in New York. But it's not easy. She deserted them all—and her high school sweetheart—five years before with little explanation, and they've got questions. Sunday is determined to rebuild her life back on the east coast, even if it does mean tiptoeing around resentful brothers and an ex-fiancé. The longer she stays, however, the more she realizes they need her just as much as she needs them. When a dangerous man from her past brings her family's pub business to the brink of financial ruin, the only way to protect them is to upend all their secrets—secrets that have damaged the family for generations and will threaten everything they know about their lives. In the aftermath, the Brennan family is forced to confront painful mistakes—and ultimately find a way forward, together.
In the summer of 1932, May Marshall has returned from Paris to settle at her family home in rural Keswick, Virginia. She struggles to keep her family farm and market afloat through the economic downturn. May finds herself juggling her marriage with a tempting opportunity to revamp the family business to adapt to changing times. In a cold-water West End Boston tenement the fractured Sykes family scrapes by on an itinerant mechanic's wages and home sewing. Having recently lost her mother, sixteen-year-old Dorrit Sykes questions the religious doctrine she was raised in. Attempting to understand what limits her, she seeks inspiration in Nancy Drew mysteries and finds solace at the Boston Public Library, writing fairy stories for children. The library holds answers to both Dorrit's exploration of faith and her quest to understand and manage her anxiety. Dorrit's and May's lives intersect, and their fates will intertwine in ways that neither could have imagined or expected.
The Other Me by Sarah Zachrich Jeng (August 10th)*
One minute Kelly's a free-spirited artist in Chicago going to her best friend's art show. The next, she opens a door and mysteriously emerges in her Michigan hometown. Suddenly her life is unrecognizable: She's got twelve years of the wrong memories in her head and she's married to Eric, a man she barely knew in high school. Racing to get back to her old life, Kelly's search leads only to more questions. In this life, she loves Eric and wants to trust him, but everything she discovers about him—including a connection to a mysterious tech startup—tells her she shouldn't. And strange things keep happening. The tattoos she had when she was an artist briefly reappear on her skin, she remembers fights with Eric that he says never happened, and her relationships with loved ones both new and familiar seem to change without warning.  But the closer Kelly gets to putting the pieces together, the more her reality seems to shift.
I really enjoyed this one - such a clever and unique premise.
A second chance is the last thing she wants. When thirty-nine year old Maria Forssmann wakes up in her seventeen-year-old body, she doesn't know how she got there. All she does know is she has to get back: to her home in Bienville, Mississippi, to her job as a successful psychiatrist and, most importantly, to her husband, daughters, and unborn son. But she also knows that, in only a few weeks, a devastating tragedy will strike her husband, a tragedy that will lead to their meeting each other. Can she change time and still keep what it's given her? Exploring the responsibilities love lays on us, the complicated burdens of motherhood, and the rippling impact of our choices, She Wouldn't Change a Thing is a dazzling debut from a bright new voice.
Another one with a unique and intriguing premise; it was a great read.
Lucien moves to Los Angeles to be with his grandmother as she undergoes an experimental memory treatment for Alzheimer's using a new drug, Memoroxin. An emerging photographer, he's also running from the sudden death of his mother, a well-known artist whose legacy haunts him even far from New York. Sophie has just landed the lead in the upcoming performance of La Sylphide with the Los Angeles Ballet. She still waitresses during her off-hours at the Chateau Marmont, witnessing the recreational use of Memoroxin—or Mem—among the Hollywood elite. When Lucien and Sophie meet at the Center, founded by the ambitious yet conflicted Dr. Angelica Sloane to treat patients who've abused Mem, they have no memory of how they got there—or why they feel so inexplicably drawn to one another. Set in a city that seems to have no memory of its own, The Shimmering State is a graceful meditation on the power of story and its creation.
The Family Plot by Megan Collins (August 17th)*
At twenty-six, Dahlia Lighthouse remains haunted by her upbringing. Raised in a secluded island mansion deep in the woods and kept isolated by her true crime-obsessed parents, she has been unable to move beyond the disappearance of her twin brother, Andy, when they were sixteen. After several years away and following her father's death, Dahlia returns to the house where the family soon makes a gruesome discovery: buried in their father's plot is another body—Andy's, his skull split open with an ax. Her brother, Charlie, pours his energy into creating a family memorial museum, highlighting their research into the lives of famous murder victims; her sister, Tate, forges ahead with her popular dioramas portraying crime scenes; and their mother affects a cheerfully domestic facade, becoming unrecognizable as the woman who performed murder reenactments for her children. As Dahlia grapples with her own grief and horror, she realizes that her eccentric family, and the mansion itself, may hold the answers to what happened to her twin.
This one is creepy, and I loved the resolution of the murders.
Georgie, Lissa, and Bronwyn have been inseparable since dominating their college swim team; swimming has always been an escape from their own problems, but now their shared passion has turned deadly. How can it be true that Lissa, the strongest swimmer they know, drowned? Granted, there is something strange about Kanu Cove, where Lissa was last seen, swimming off the coast of the fabulous island resort she owned with her husband. Lissa's closest friends gather at the resort to honor her life, but Georgie and Bron can't seem to stop looking over their shoulders. As the weather turns ominous, trapping the funeral guests together on the island, nobody knows who they can trust. Lissa's death was only the beginning.... 
The Show Girlby Nicola Harrison (August 17th)*
It's 1927 when Olive McCormick moves from Minneapolis to New York City determined to become a star in the Ziegfeld Follies. Extremely talented as a singer and dancer, it takes every bit of perseverance to finally make it on stage. And once she does, all the glamour and excitement is everything she imagined and more—even worth all the sacrifices she has had to make along the way. Then she meets Archie Carmichael. Handsome, wealthy—the only man she's ever met who seems to accept her modern ways—her independent nature and passion for success. But once she accepts his proposal of marriage he starts to change his tune, and Olive must decide if she is willing to reveal a devastating secret and sacrifice the life she loves for the man she loves.
A fabulous historical fiction read.
As war overtakes the frontier, Emma's family farmstead is attacked by Dakota-Sioux warriors; on that same prairie, Oenikika desperately tries to hold on to her calling as a healer and follow the orders of her father, Chief Little Crow. When the war is over and revenge-fueled war trials begin, each young woman is faced with an impossible choice. In a swiftly changing world, both Emma and Oenikika must look deep within and fight for the truth of their convictions—even as horror and injustice unfolds all around them. Inspired by the true story of the thirty-eight Dakota-Sioux men hanged in Minnesota in 1862—the largest mass execution in US history—Dovetails in Tall Grass is a powerful tale of two young women connected by the fate of one man.
I learned so much from this one, and I liked it so much I blurbed it. Dovetails in Tall Grass is a wonderful book.
If you have read any of these, I would love to hear what you think! Feel free to comment below.